Business Studies encourages students to develop an appreciation of how their lives are shaped by economic and social factors. They are enabled to make informed decisions, to better manage their personal financial resources and to be adaptable, creative, and enterprising. Business Studies also improves their knowledge and understanding of good business practice and of business as a productive activity.
Junior Cycle Business Studies aims to develop students' understanding of the business environment and how they interact in it, to develop and consolidate their skills, to instil an enterprising attitude and make them more self-aware as learners.
More specifically, it aims to encourage all students to:
 be enthusiastic, curious about and responsive to the dynamic business world
 be active learners and apply their understanding and skills to their lives as citizens and consumers
 make responsible, ethical and informed decisions about managing financial resources
 develop an informed appreciation of entrepreneurship and its contribution to society and the economy
 appreciate the dynamics of Ireland's economy from a personal, business and government perspective
 understand the impact of, and engage with, ICT developments in the business environment.
Entrepreneurship enhances the quality of our collective and individual lives, often changing the way we work, communicate and live. Business Studies provides an awareness, insight and positive attitude to entrepreneurship, demonstrating how it can improve our goods, services, and institutions.
Business Studies encourages students to develop skills for learning, skills for work and skills for life. It supports the development of analytical and critical thinking skills, encouraging students to be problem solvers. It reinforces the development of students' numeracy, literacy and ICT skills by providing a real life context for their application.
Finally, Business Studies explores the interdependence of economic prosperity, societal well being and the environment and encourages students to think and act as responsible and ethical citizens. They will develop a set of foundational skills, understandings and personal attributes, which will help them to engage with the dynamic business environment and fulfil their potential in their personal and professional lives now and in the future.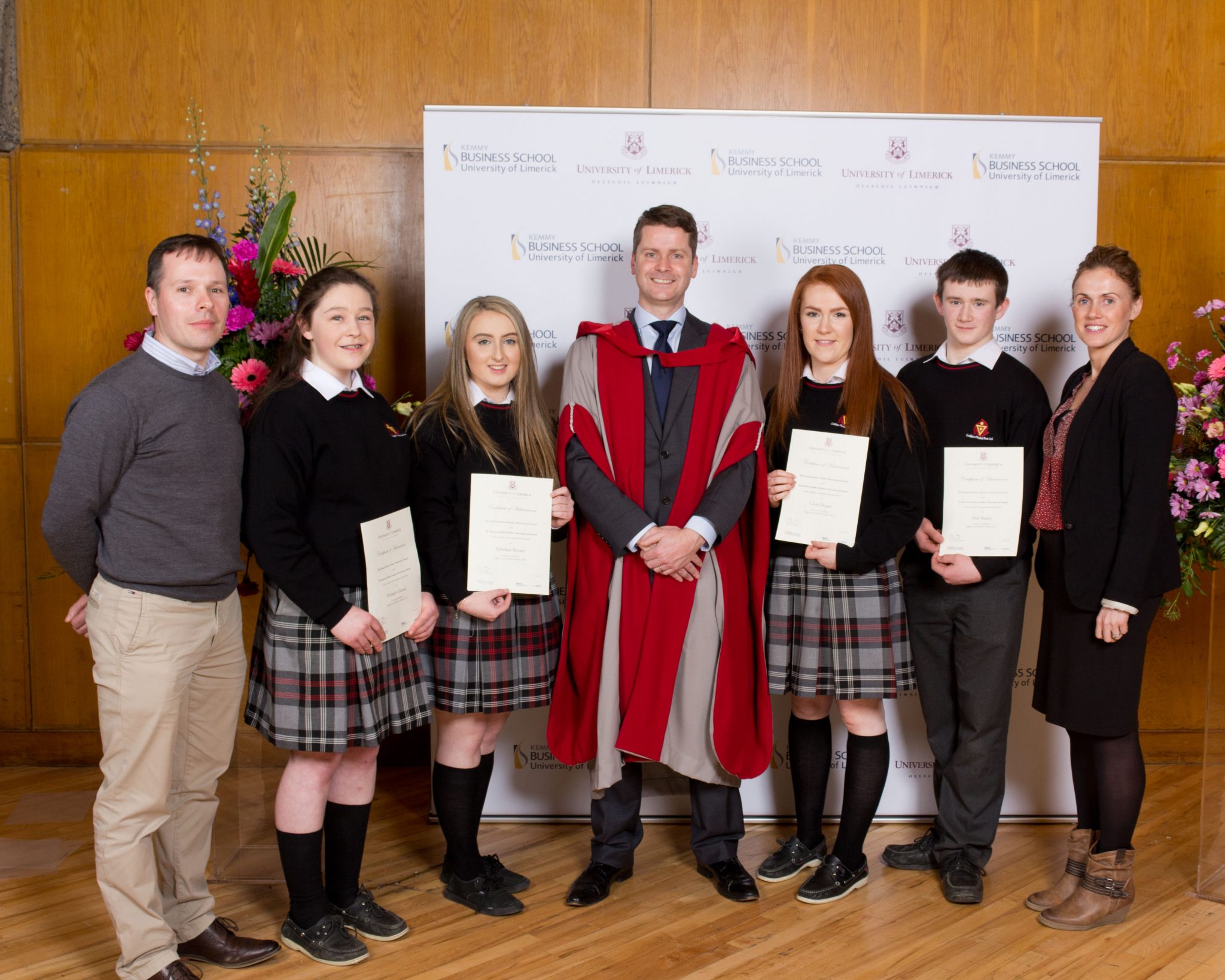 Kemmy Business School, University of Limerick Award participants 2016:  Oonagh Gleeson, Rebekah Bevans, Ciara Hogan and Neil Maher with their Teachers Mr Newman and Ms Rice.