Coláiste Phobal Ros Cré, Post-Leaving Certificate Courses 2017-18
Courses available in:
QQI LEVEL 5

QQI LEVEL 6

Nursing Studies
Heatlhcare Support
 Healthcare Supervisor
 ** NEW COURSE 2017 **
Monday/Tuesday/Wednesday 9.00 a.m. – 4.00 p.m.
Early Childhood Care and Education
Business Technology with Tourism
Advanced Administration with HR
Social and Community Care
Construction Skills
 ** NEW COURSE 2017 **
For more information  
Email: colaistephobal@tipperaryetb.ie or jnielsen@tipperaryetb.ie
Phone:    0505 23939 or 087-1727405
Professional qualification in one year
Further Education, VTOS and BTEA allowances (may apply)
Access route to Higher Education
Work Placement
Whilst offering a very broad range of second level courses, the College is also very committed to the PLC (Post Leaving Certificate) sector of the College.  Statistics now reveal that PLC courses are unrivalled as a route to direct employment or as a stepping stone to further study.  Our dedicated tutors take an active interest in each student's welfare and progress during his/her course.
Our courses run from September to May of the school year.  Applications are accepted from Spring each year and interviews for course places take place in late May and August.
Successful applicants must pay a course levy of €50.   The government require all PLC students pay a €200 course fee (applicants who hold a medical card, or are eligible for Back to Education/VTOS allowance are exempt from this fee).  Applicants may be eligible for a maintenance grant – further information and applications forms are available on: www.susi.ie
All applicants must successfully undergo a Garda Vetting process before participating in our work placement programme which is a mandatory part of each course.
Consider our record …
Professional training programme
Established and successful record
Excellent placement record
Minimal costs
No extras
Personal interest in all aspects of the welfare of students
WHY TAKE A PLC COURSE
Firstly, PLC courses allow students gain a qualification in a specific area, with only one year of further study and, therefore, improve their employment prospects.
Secondly, these courses may be used as a stepping stone to Third-Level and the system is creating more opportunities for students to do this. A student who has not achieved the points required for his/her chosen College course may take a course in a similar area of study in the PLC sector and use this qualification, instead of his/her Leaving Certificate to apply to the CAO or UCAS (UK) the following year.
Many mature adults or early school leavers are now using the PLC route as a stepping stone to education, and with the downturn in the economy, are taking the opportunity to upskill, obtain new qualifications and broaden their job prospects.
Courses offer students an ideal gap year if they are uncertain of their future career paths. VTOS, Back to Education and Further Education allowances/grants are available to eligible candidates. Courses start in September and end in mid-May and Work placement is an intrinsic part of each course.
We respond to Labour Market needs!
Our courses are established as a direct response to the national labour market demands and feedback from Employers/Agencies in the locality and its hinterland. Each programme is assessed annually to ensure it is in step with these demands. Last year, over 90% of our Healthcare Support applicants received employment in the area.
The Advanced Administration and Human Resources programme (QQI Level 6) includes components such as Customer Service, Web Authoring and Managing People. This course is ideal for candidates who have taken a previous Level 5 award and now wish to enhance their qualifications and work in supervisory roles in small to medium enterprises, or avail of positions in technology, customer service and sales that are forecast to increase in the economy.
PLC EVENTS
Advanced Administration with H.R. 2016 Graduation Class with Tutor Mary McGrath and Principal Michael O'Connor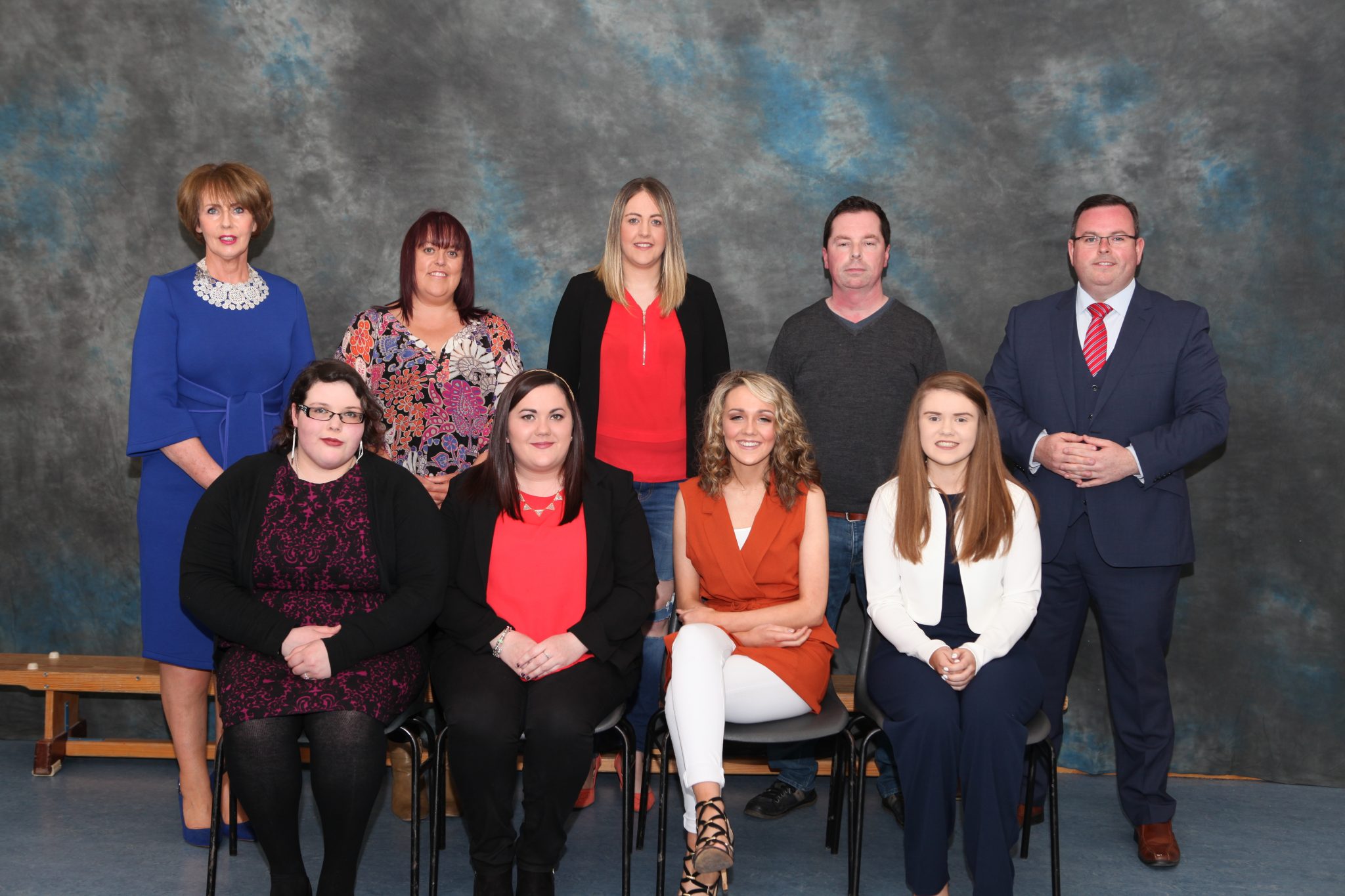 Business Administration with Technology 2016 Graduation Class with Tutor Mary McGrath and Michael O'Connor Principal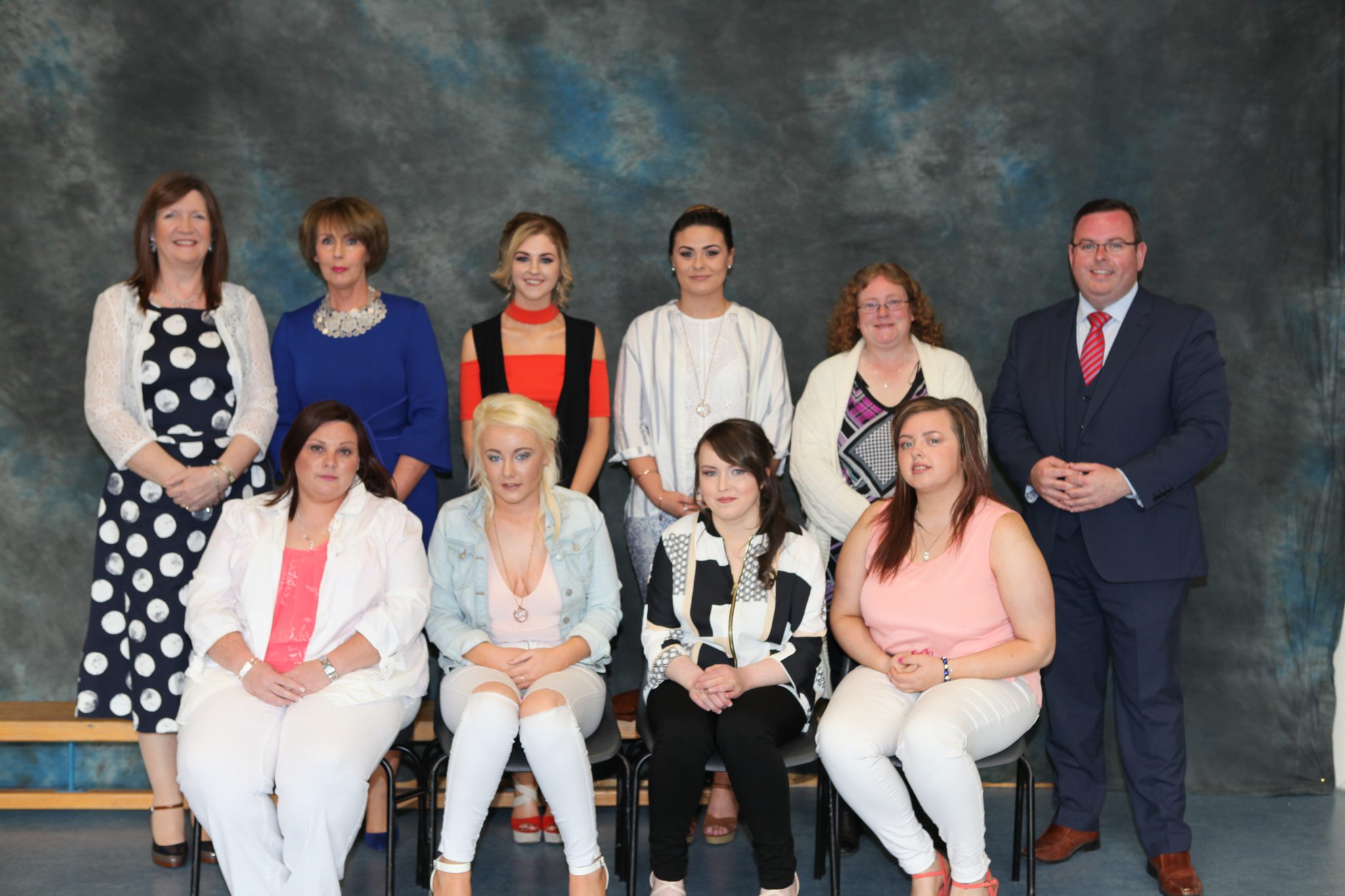 Early Childhood Care and Education 2016 Graduation Class with Tutors Paula Nolan and Mary McGrath and MIchael O'Connor, Principal.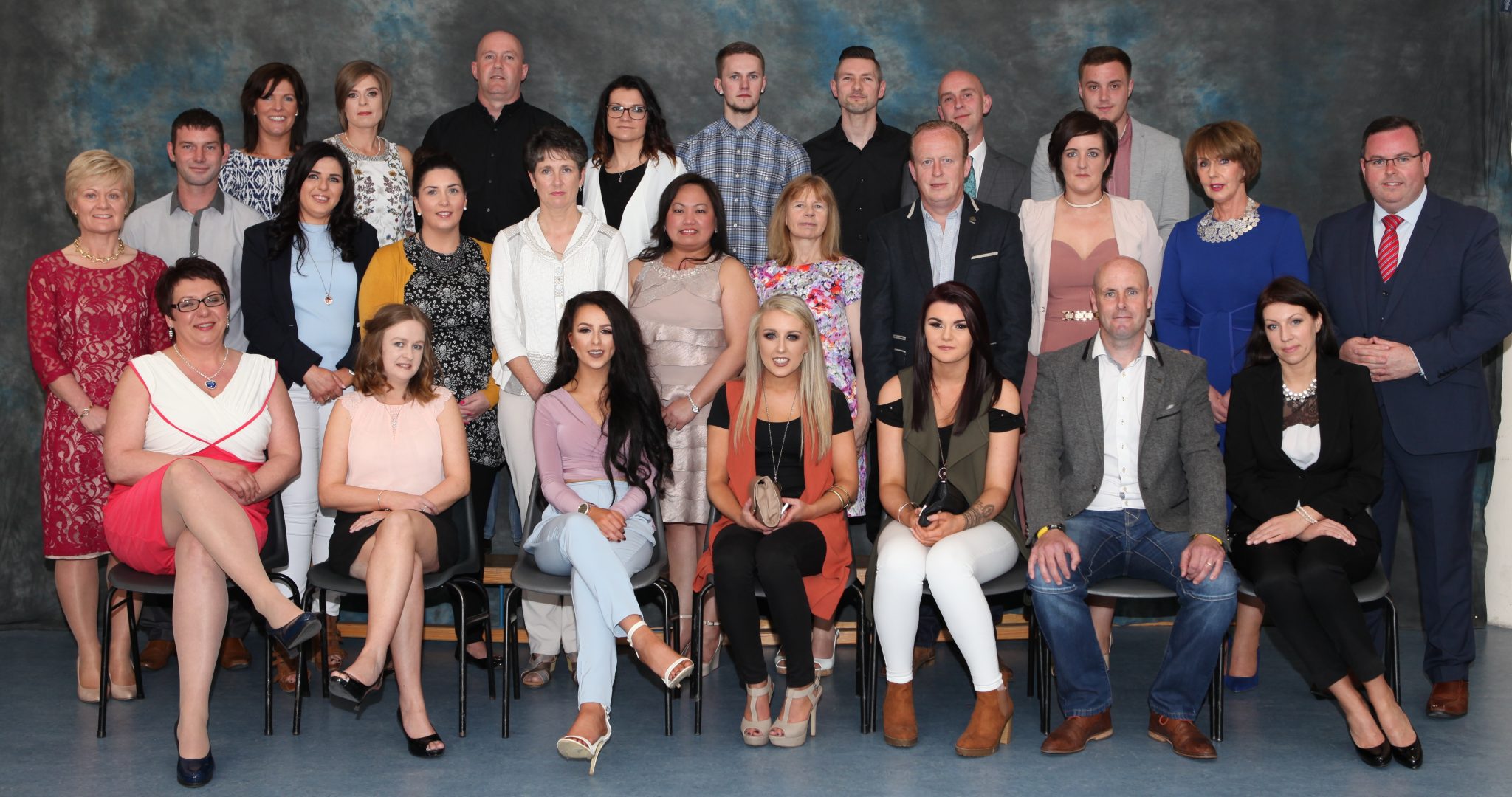 Healthcare Support 2016 Graduation Classes with Tutors Ingrid Condell and Mary McGrath and Principal Michael O'Connor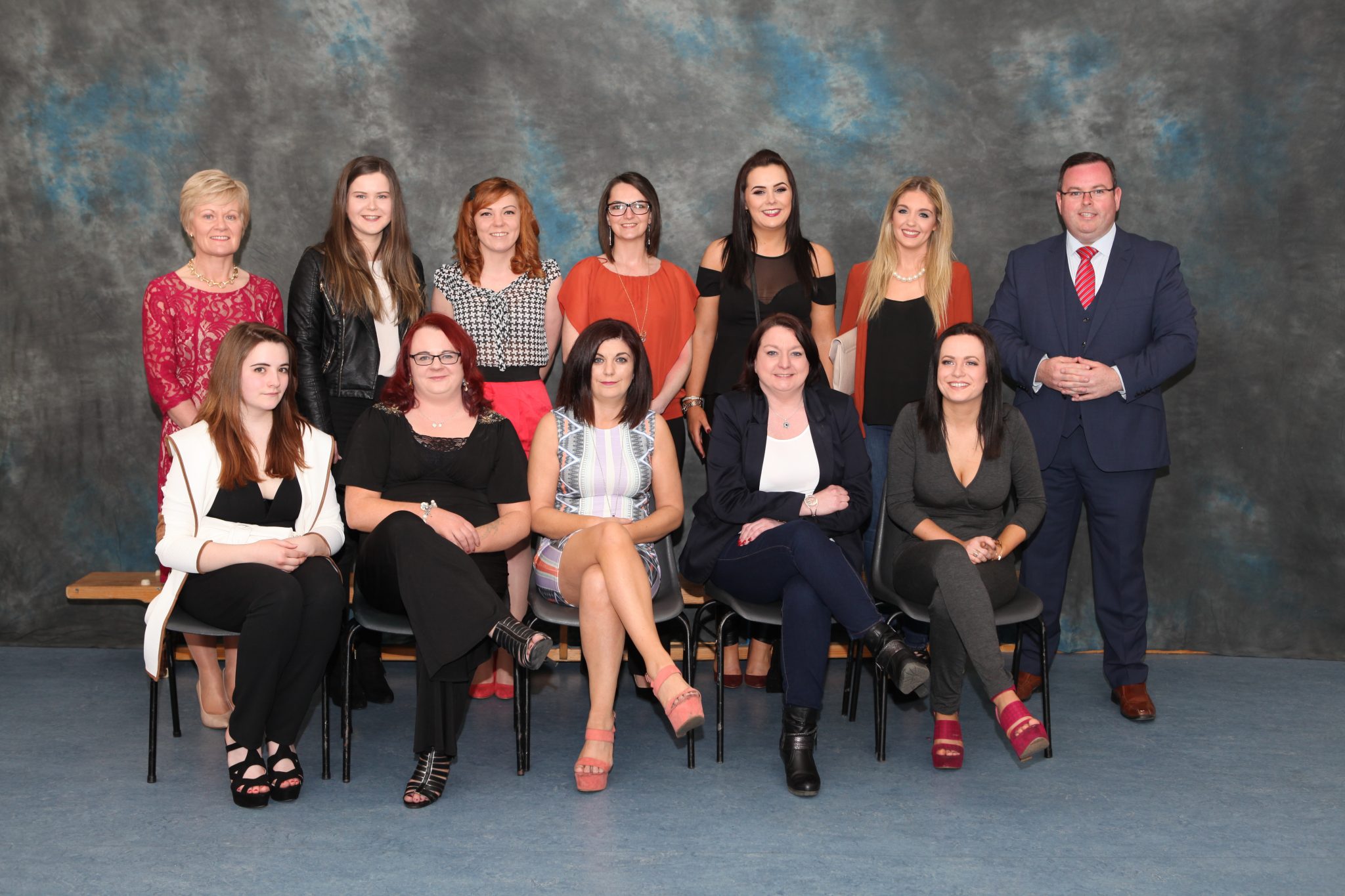 Nursing Studies 2016 Graduation Classes with Tutor Ingrid Condell and Principal Michael O'Connor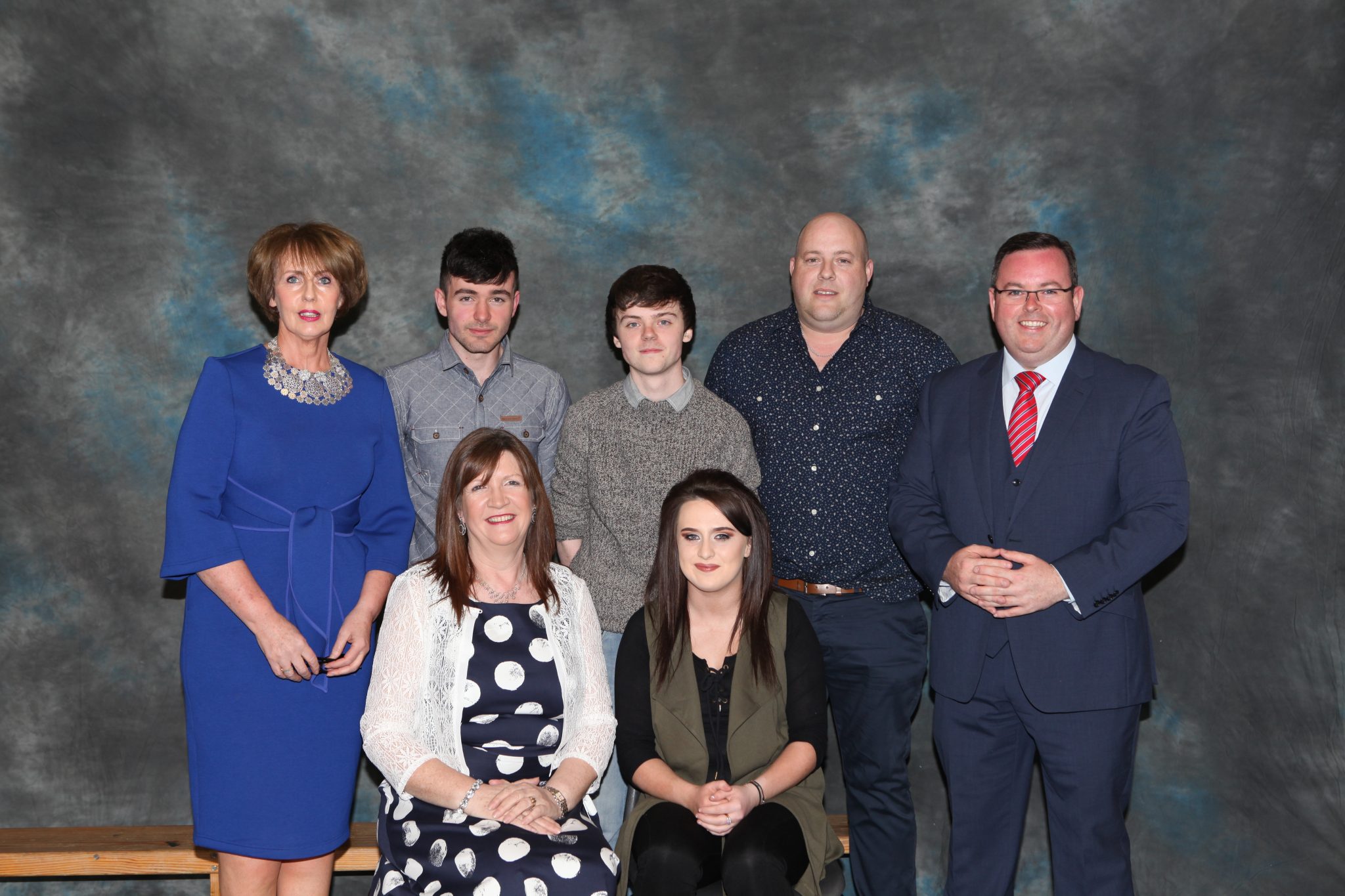 Community Development with Youthwork 2016 Graduation Class with Tutors Mary McGrath and Paula Nolan and Principal Michael O'Connor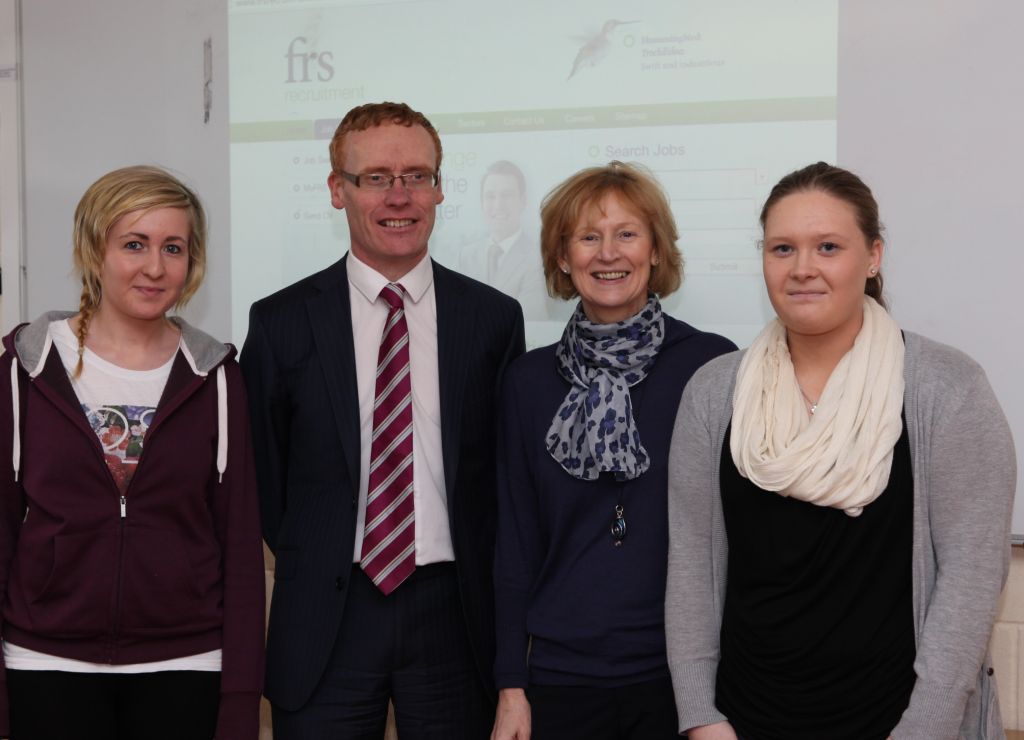 Ms Stephanie Cordial, (Business and IT student), Mr Colin Donnery (FRS Recruitment,), Ms Carmel Needham (PLC Tutor)
and Louise Brennan (Business and IT student) at the Recruitment Presentation for PLC candidates at Coláiste Phobal Ros Cré.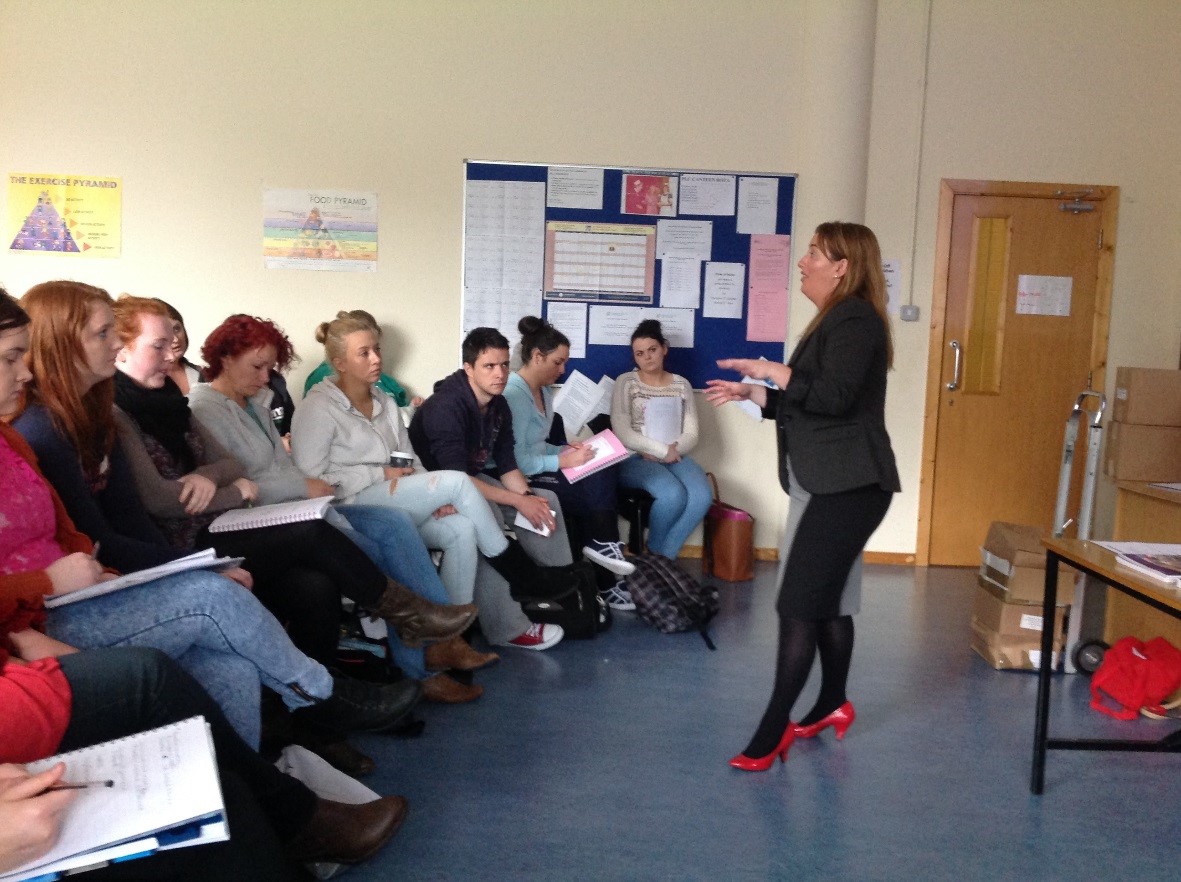 Mary Higgins, Marketing Executive, E,R and M recruitment agency delivering a presentation on UCAS application to
students from Coláiste Phobal Ros Cré and Coláiste Mhuire, Thurles.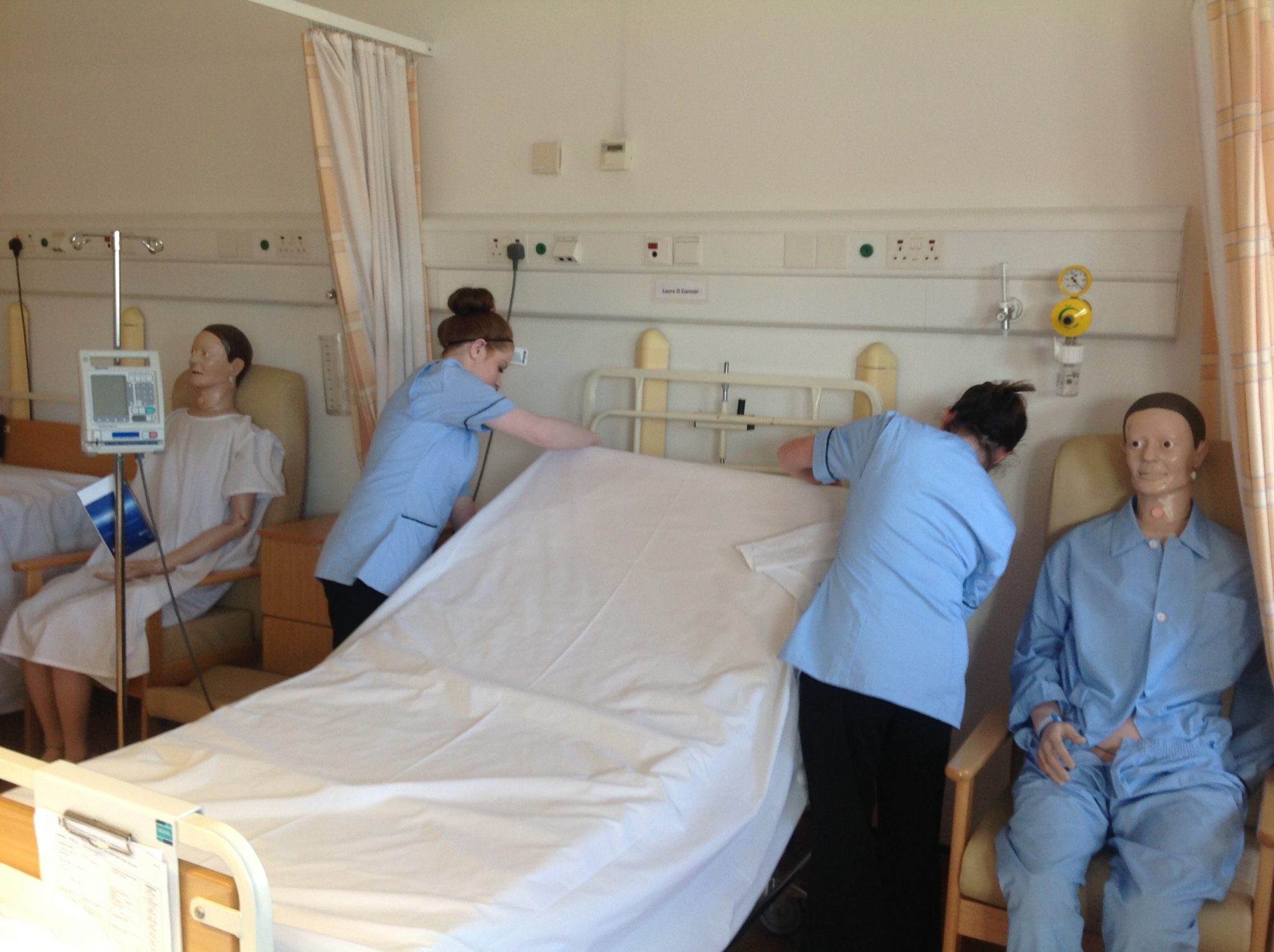 Healthcare and Nursing students demonstrate their skills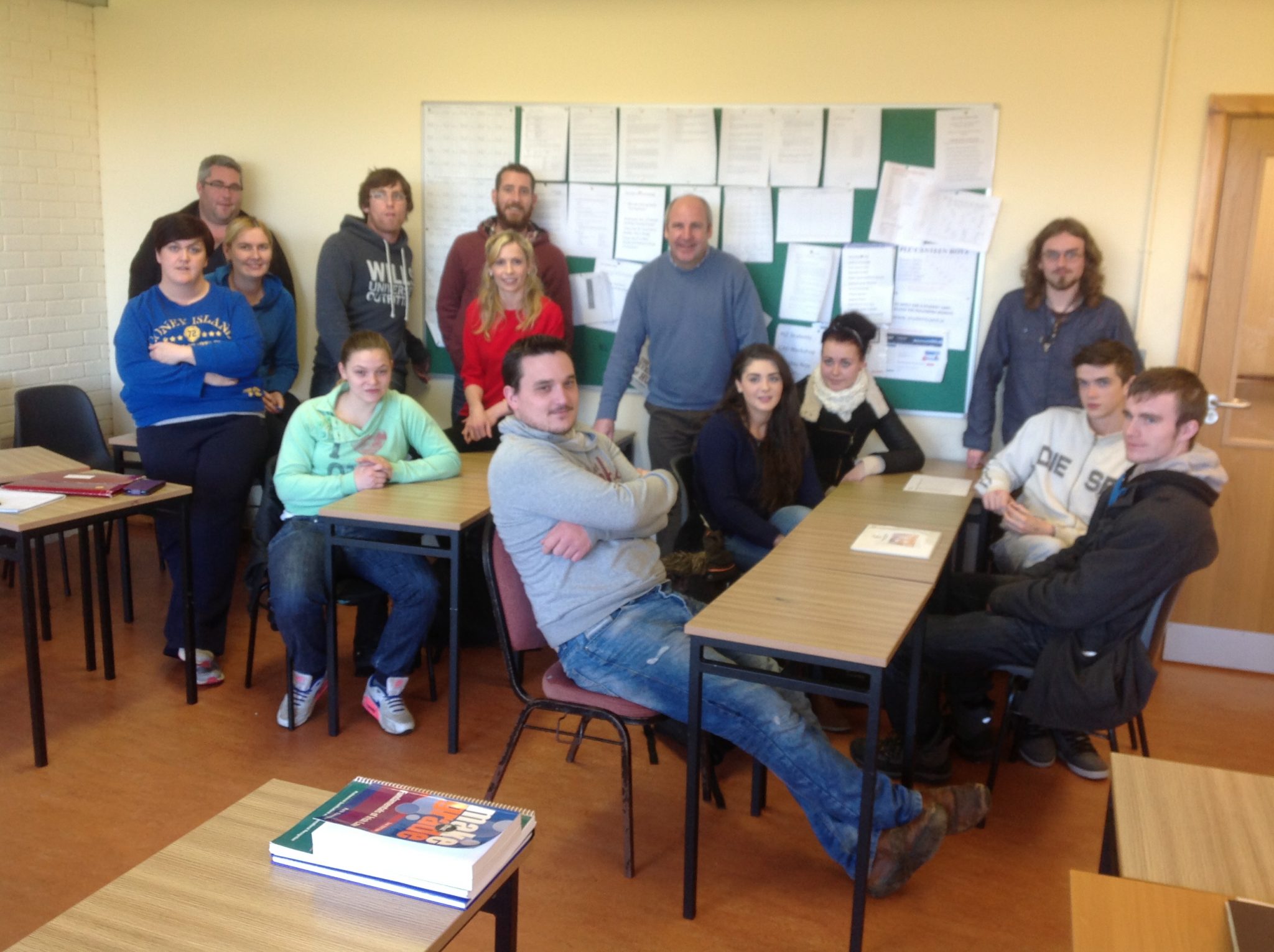 John Leahy, former Tipperary hurler and addiction counsellor, giving a workshop on drugs and alcohol to Security
Studies students.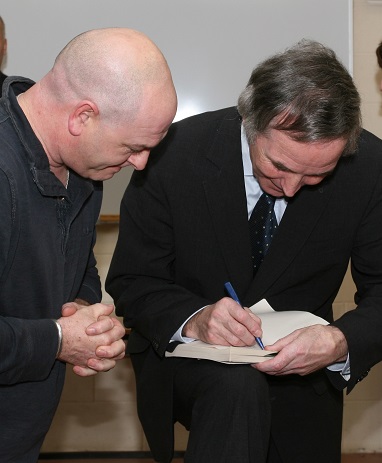 Picture above is the ex-governor of Mountjoy, Mr John Lonergan, as he signs a copy of his book for Liam Meehan, a candidate on the
Criminology and Social Studies PLC course, at Coláiste Phobal Ros Cré. John is among the many guest speakers that are invited to
talk to the PLC programmes at Coláiste Phobal Ros Cré throughout the year.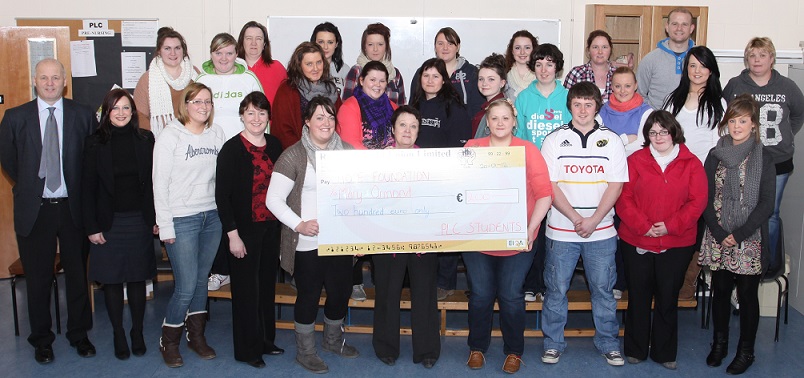 Students representatives in the PLC Programme at Coláiste Phobal Ros Cré, assisted by their tutors, organised
a coffee morning fundraising activity in aid of the Hope Foundation. Pictured in the photograph are some of the
PLC students and tutors involved as they present a cheque to Ms Ormond for the Hope Foundation.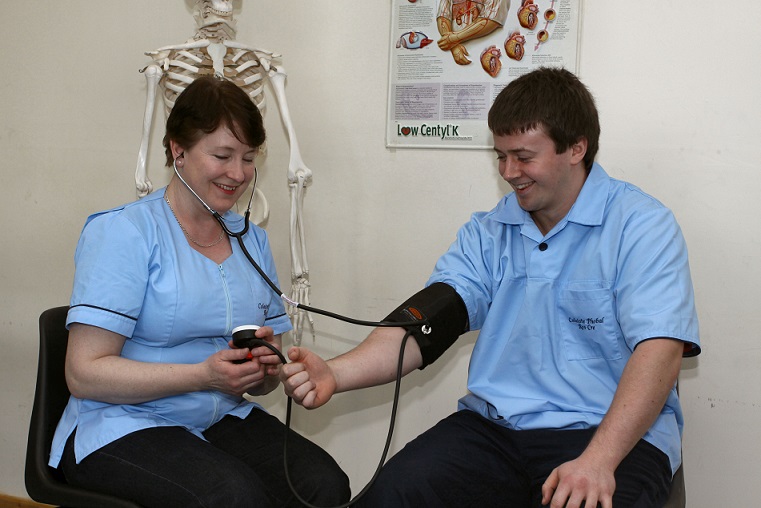 The Nursing/Healthcare students at Coláiste Phobal Ros Cré as they undertake their training in nursing skills. 
During the year student on the PLC programme at Coláiste Phobal Ros Cré undertake many training
programmes eg Interview Technique, Safe Lifting, Heartsaver AED and Hand Hygiene to enhance their
certification when they graduate from the courses.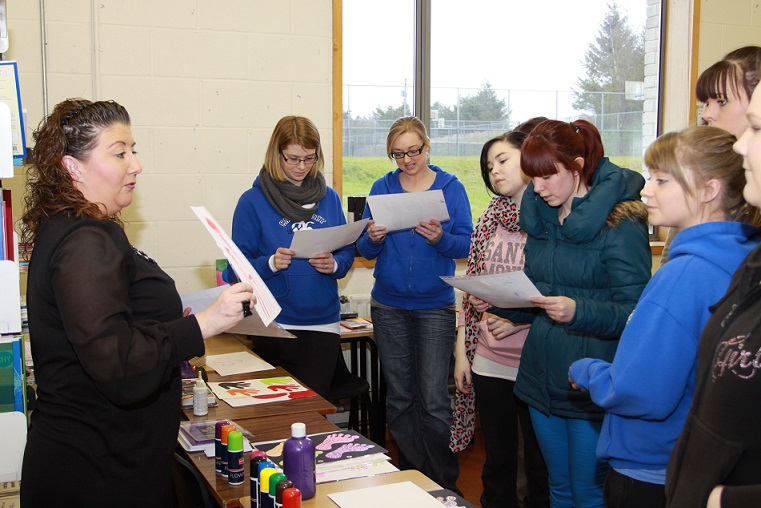 Some of the Early Childhood Care and Education students who recently participated in an Art
Workshop that was run as part of their programme at Coláiste Phobal Ros Cré.