Music
There is a thriving Music Department within Coláiste Phobal Ros Cré. Music is a hugely popular option for students at both Junior and Senior Cycle. Musical talent and appreciation is nourished within the school in a wide variety of ways.  The school choir, made up of students from the entire school community, plays an integral part of all major school functions. They rehearse tirelessly in order to perform with distinction within the school and without. They possess a broad repertoire from sacred to secular and participate with distinction in community events in the locality as well as the annual school musical.
There is also an exceptional 'grupa cheoil', composed of the many talented traditional musicians, singers and dancers amongst our student cohort. They perform to hugely receptive audiences and judges when competing during term time.  Coláiste Phobal Ros Cré also provides instruments such as guitars and flutes on a rental basis so that students can enjoy playing and practising outside of school. Guitar, piano, flute and bodhran classes are run after school hours to in order foster a love and appreciation of music in its many forms.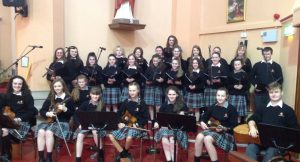 Musical
The Transition Year students of Coláiste Phobal Ros Cré have consistently wowed audiences with their singing, dancing and acting talents in large scale musical productions over many years.  The most recent performance was a spectacular showing of 'Thank You for the Music' which delighted huge numbers from local primary school students to parents and friends from the local community.  Students bring an enormous amount of energy and enthusiasm to both rehearsals for and performances of this annual showcase. For many it is their first opportunity to appear on stage which helps enormously with poise and self-confidence.  
Many staff and parents gave willingly of their time and expertise to ensure the success of each and every musical extravaganza.  Previous shows have included Beauty & The Beast, All Shook Up, Grease, Wizard of Oz, Peter Pan, High School Musical, Me and My Girl, Oliver and Back to the 80s. The event provides an opportunity for students from many other years to assist with hair and make-up and the mechanics of props, backstage and lighting. Sixth year students also work tirelessly as ushers and tickets sellers for each performance.  The devotion and hard work of all involved in the musical from back-stage to centre stage is truly inspirational.