School Awards Scheme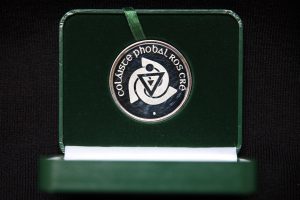 Coláiste Phobal Ros Cré organises its own annual student awards ceremony.  The ceremony which takes place in May every year, is a unique and special day in life of the school. The initiative has been warmly embraced by students, staff and indeed the local business community who sponsor a number of the awards.  The scale of the ceremony has grown over time with the inclusion of many additional categories of awards at both Junior and Senior cycle, including students of the year.
The awards publically recognise student excellence, endeavour, creativity and community. We are extremely proud as a school to pay tribute to those who have excelled in the academic and sporting arenas. We are equally honoured to celebrate those students who have combined their talents and passions to enrich the life of the school.
Achievements are highlighted and qualities such as leadership, teamwork, active citizenship, initiative and creativity are sought out and rewarded. All award recipients are inspirational role models for the entire school community and beyond.