Munster Schools T&F Championships 2019
The Munster Schools T&F Championships were held in Cork IT on Sat. 18th May. Coláiste Phobal Ros Cré were represented in a myriad of events and overall to great success. Adam Dooley was first to line out in the senior triple jump. While jumping in good form, he narrowly missed out on the medals. He finished in 4th place with a jump of 11.76m. Adam later competed in the long jump and despite jumping with composure, progression to the All-Irelands in his last year of schools' competition was not to be. His younger brother Graham, and Michael Fitzgerald were next up in the junior long jump. Michael finished in 5th place (4.75m) and Graham in 3rd place (4.88m). Graham now goes forward to the All-Ireland final in Tullamore on June 1st. Kyle Dooley was the first athlete onto the track in the inter 200m. Kyle finished outside the medals but ran a PB of 23.6 seconds. Kyle will compete in the same age-group again next year. Killian Bergin kept us all entertained for the next hour or so. First off was the junior javelin, where Killian's initial throw of 33.64m won him the silver medal, thus qualifying for the All-Irelands. Soon afterwards he competed in the high jump and cleared 1.55m finishing in 5th place. There was a thrilling finish to the day with the Junior relay race. Christopher Moloney got the team off to a great start; Graham Dooley ran a superb second leg. Michael Fitzgerald took the bend at a flying pace and Killian Bergin fought fiercely to cross the finishing line in 2nd place, 0.21 seconds ahead of 3rd place. It was a wonderful team performance and the boys deservingly head for Tullamore.
Many thanks to the parents and supporters who travelled with the team. As we part ways with Adam Dooley (6th year), we wish him the very best in the future – both on and off the track. We thank him for the wonderful years he has represented CPR, during which he performed with pride and prestige. Best of luck to Kyle on his upcoming club events, and Killian, Graham, Michael and Christopher in the schools All-Ireland.
Fun Day
On Tuesday 21st May we had a fantastic Fun Day for students and staff. It consisted of many activities including Hang tough, Skipping, Rodeo Bull, Games Room, Tug of War, Relay Races, Welly Throwing, Outdoor obstacle course, Wrecking Ball, Last Person Standing, Wipeout, Keepy Up and many other challenges. The day culminated in a Teachers versus 6th year student's soccer match. The teachers were leading 1-0 at half time but the students came back to level it by full time. Extra time was played and the students got a winning goal late in the play. The day was thoroughly enjoyed by all with fun certainly being the theme of the day and good weather shining down really added to the day's events. Well done to all staff in the sports Department and the committee for organising a great day.
6th Year Graduation
On Thursday 23rd May the 6th year graduation took place with a beautiful service coordinated by Fr. Lorcan, the religion department and lots of staff. It included 6th year students, their parents, family members and staff. A huge amount of time and effort went into preparing for the evening with fantastic art work, painting, construction, digital media, music, songs etc. bringing a lovely feel to the theme of 'I'll always remember you'. It was great to be joined by local clergy for the service. A fitting end to proceedings saw Fr. Lorcan being shown a power-point presentation consisting of photos and video clips from his time in Uganda. The 6th years collected money to sponsor a child in Coloma Uganda as their random act of kindness for Fr. Lorcan. We wish all the 6th years well in their forthcoming exams.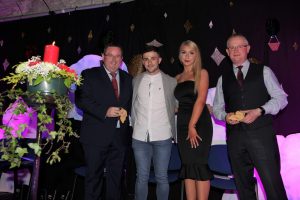 Mr O Connor and Mr Flynn being presented with a token by 6th years Head Girl, Emma Choptiany and Head Boy, Adam Dooley. Money will be given towards Uganda.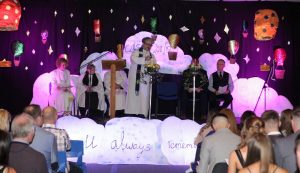 Fr. Lorcan lighting a candle of remembrance for Adam McAndrew at the 6th Year Graduation Service. A presentation to 'Adams Gift' on behalf of the 6th years will be made shortly.