Over 3000 PPE Visors/Face-shields now made at Coláiste Phobal Ros Cré
Coláiste Phobal is delighted to facilitate the making of visors/face-shields that can be used by front line workers in these uncertain times. This was the brainchild of Dympna and Diarmuid Haugh. Mr Haugh is a Technology teacher in the school and has worked tirelessly in making the visors/face-shields to help the front line workers. To date more than 3000 have been made and 2800 have been distributed to numerous hospitals, nursing homes, services and individuals all over the midlands. People have been very generous donating to the fundraising page which has allowed for the sourcing of the much needed materials to make them. If you know of any front line workers who could use the visors/face-shields please get in touch via the school Facebook page (https://www.facebook.com/Coláiste-Phobal-Ros-Cré) the school website (https://www.cpr.ie/) or by emailing: ColaistePhobal@tipperaryetb.ie.
Reflection on my trip to Paris
By Caoimhe Flannery
On the third of March, our transition year group was set to head off to Paris for three days, for the annual school trip abroad. It is fair to say that I was both nervous and excited in the days leading up to the trip. I couldn't wait to spend this time with my friends, as I knew it would turn out to be an amazing experience. On the other hand, I was quite nervous due to the Covid 19 crisis, as I knew the dangers that came with travelling abroad in relation to safety and hygiene. We were addressed by the school principal and many other teachers who wished us a safe journey and spoke to us about the corona virus and what we could do to ensure we didn't contract the disease.
The bus left the school gates at around 2:00 am on Tuesday morning. We arrived at Dublin airport shortly after, with everyone in high spirits despite the lack of sleep. We got through security without any major hiccups and waited until our flight was boarding. We were fully equipped with masks, gloves and hand sanitizer, as we didn't want to take any chances when it came to our safety. On the plane, we were given allocated seats. However, we could swap with other students if they were happy to do so. Our plane took off at approximately 6:30 am. Some students were quite anxious during take-off, as they had never been on an airplane before. I leaned back against my seat, earphones plugged in and Haribo jellies between my teeth so that my ears would not pop, and it worked a treat. The plane journey was short and enjoyable, lasting less than two hours.
As I looked out the window of the plane, there were fields as far as the eye could see, and I remember thinking how it looked just like Ireland. The only difference was that the sun was shining here. We hopped off the plane and entered the Paris Beauvais airport. Bags were collected and after showing our passports, we headed towards our bus. Our bus driver's name was Gurt, and he was from Belgium. The bus was very nice, with comfortable seats, a toilet and you could also purchase some snacks or drinks from the bus driver, which was very convenient. Before going into the city, we went to a supermarket to pick up some supplies. We were all very happy heading back to the bus, with our bags of sweets, chocolate and bottles of water. Gurt on the other hand wasn't so pleased.
We then headed into the city to see the Arc de Triomphe. We had to walk for a while to reach the sight, passing the stores of the Champs Elysees, which unfortunately were well above my budget. We eventually reached the Arc de Triomphe, which was constructed in 1806 as ordered by Napoleon to glorify the Grand Army. We climbed up many flights of stairs to get to the top, but it was well worth it in the end when we saw the amazing views from above.
After this we went to McDonald's to get some lunch. The menu completely bamboozled me, and after about ten minutes of scrolling through the order machines I finally got the hang of it. We went outside to eat our meals, where we had our first encounter of many with the pigeons of Paris. They waddled around at our feet, and flew right above our heads, putting me into a state of sheer panic, as I have a fear of birds. After around five minutes, I made my escape and ran back inside the restaurant, where I could eat my food in peace.
Next stop was the Eiffel Tower. Construction began on the Eiffel Tower on the 28th of January in 1887. I had seen many photographs of the building prior to this, mostly online and on magazines and so on. However, I did not imagine it to be quite so tall, as it shot up right into the sky. Fortunately, I do not suffer from a fear of heights and so I had no issues with going up the various floors. Others, however, were absolutely petrified, and didn't dare to look down as they hung onto the railings for dear life. We walked up the first two floors, with little gift shops and restaurants on each one. We looked through telescopes to see the view of the city, and we could just about see our bus in the distance. When approaching the third floor, it was merely a waiting game, as we stood in a queue to get the elevator up to the top floor. And it was most definitely worth the wait. The scenery was beautiful, and many students who had been so scared to even climb the first floor made it to the top, surprising themselves and everyone around them, and it was a great sense of achievement for them.
After we made our way down from the tower, we were faced once again with a huge flock of pigeons roaming around, and this time I resorted to putting up my umbrella as a means of protection from them. I received some confused looks from strangers in doing so, as the weather was fine without so much as a cloud to be seen. We headed back to the bus and to the creperie, which was one of my worst experiences of the entire trip. I did not enjoy the crepes at all, both the savory and the sweet ones, and I was very grateful for the McDonald's I had eaten earlier.
With sick tummies, we headed for the hotel, and it did not disappoint. The lobby was decorated beautifully and had lots of activities to keep the guests busy. There was an arcade, a swimming pool, air hockey table, shops and much more. It really got everybody in a holiday spirit as the buildup of excitement for Disneyland the next day continued to grow.
The next morning, we got up bright and early, as we wanted to be in Disneyland as soon as the gates were open. There was a great air of excitement around the place as we waited for a shuttle bus to take us to the park. We were each given our own ticket and guarded it with our lives. Disneyland Paris opened its doors for the first time on April 12th, 1992, the first of two parks built at the resort. Walking in the gates it was not at all as I expected, as it resembled a village filled with various Disney characters. We went straight to the amusements, as the Space Mountain ride was our first to tick off the list. It was fast to say the least, and my head was in a bit of a tizzy for a while afterwards. We wandered around to other rides, with the fast passes proving to be very useful as we got to skip queues that were a mile long. Parades passed through the entire day, with well-known Disney songs being played in the background. We went to Walt Disney Studios next, where we went on my favorite amusement, "The Tower of Terror". It was terrifying but sent a rush of adrenaline through my veins. We went on many other rides throughout the day such as "R2 Racer" and "Crush's Coaster". At around 5:30 we went to Planet Hollywood for dinner, which proved to be very nice compared to the crepes the night before. We then went back to the park to witness the fireworks display, which was magnificent. Disneyland was most definitely the highlight of the entire trip, and it is an experience remember for years to come.
On our final day, we were all quite tired from the travelling and all the activities. We left the hotel early in the morning and went on a boat tour around Paris. We then went to the Sacre Coeur basilica, which was designed by Paul Abadie and was completed in 1914.We were stopped by many people attempting to sell us items and to sign petitions. The basilica was beautiful both on the interior and exterior. Many of us lit candles inside and prayed for loved ones.
Our next destination was Chantilly, where we wandered around the grounds for an hour, enjoying the scenery. We then went to a live horse museum, where we walked around a giant stable and witnessed a horse being trained. Our last stop before the airport was a shopping trip. I had one last meal in McDonald's, once again having trouble with the menu. I then went to a Nike store, which I spent most of my time in. I managed to get presents for everyone back home, and also a few things for myself. At this stage, the rain was absolutely pouring down, and we waited underneath a canopy with Ms. Egan Mr. Newman and Ms. Mullen waiting for the weather to improve. Unfortunately, it only got worse, and we were forced to run back to the bus with the rain spilling down on top of us, our feet splashing in every puddle there was. We climbed onto the bus, looking like drowned rats. Finally, we made it back to the airport, and headed home. We took one final look at Paris, and although we were excited to return home and see our families again, we were sad to leave it behind.
It was not until the early hours of the morning that I was snuggled up back in my own bed, comfy as could be. Amidst all the drama and chaos that unfolded on the trip, not forgetting the pigeon scenarios, it truly was an unforgettable experience, and I made so many memories that I will undoubtedly cherish for the rest of my life.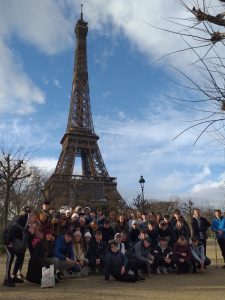 All the Transition Years pictured in front of the Eiffel Tower in Paris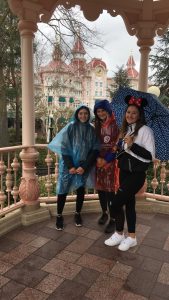 Caoimhe Flannery, Alanna Cleary and Rebecca Murphy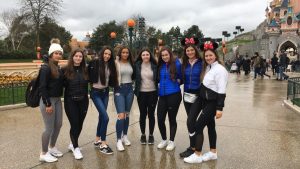 Ellie Feehan, Leah Ryan, Daniella Ireland, Nicole Brooks, Caoimhe Flannery, Alice Maher, Alanna Cleary and Rebecca Murphy