Culture Day
Well done to our musicians who played for culture day on Friday 17th Sept and entertained students during break time. The group included Shannon Guilfoyle, Caoimhe Flannery, Ella Keeshan, Abigail Wright, Ciara Crofton, Grace Mulrooney, Abi Marks, Adele Lynch, Ailise McDonald and Damien Maloney. Well done to everyone. Thanks to Ms. Larkin for her help organising the group along with Mr. Maher. Also thanks to Ms. Ormond for the display of flags representing all the various nationalities attending Coláiste.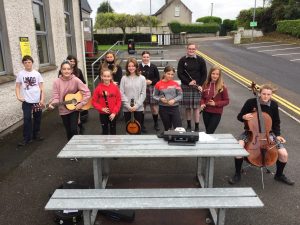 TY activities
Our TY group had a most enjoyable day trip recently to Ballyhass Adventure Centre. It was very well laid out with many water and ground activities to keep the students occupied.
On Thursday 17th September 2021, Transition Year students at Coláiste Phobal Ros Cré explored the evidence behind the JFK assassination.  The workshop was delivered by Ms. Alison Leck from 'Forensic Fun' and was thoroughly enjoyed by all.  The students explored the unidentified fingerprint, ballistics and the questions around the autopsy.  A timeline was recreated of Lee Harvey Oswald's movements immediately after JFK's assassination and again after the killing of police officer Tippit, Who might have been behind this and what else was happening in the world at the time?
It seems the students ended the workshop with more questions than they started with!!!
If other schools would like to offer this experience to students, you can contact forensicfun.com.
Munster final Winners
Well done to the Roscrea Parish Soccer under 15 Munster final winners for the community games. They played Kenmare, Co. Kerry in the Munster semi-final and won 5:0 They beat limerick regional in the final 9:1 Well done to Ella Carey, Áine Dooley, Ceola Bergin, Sheoladh Cunningham, Mya Steele, Ally Gleeson, Laura Hogan, Amy Hogan and Lily-Anne O Meara.
Camogie Champions
Well done to St. Cronan's Camogie club who recently won the county u16c championship following their final win v Portroe. The Captain was Leah Ryan. Other students from Coláiste on the panel are Jessica Kelly, Abi Vozza, Lucy Lee, Mollie Dooley, Laura Hogan, Aoife Hogan, Alison Crofton, Ciara Crofton, Áine Dooley, Niamh Pyne and Lucy Kennedy. On the losing Portroe team we also had students Grace and Ella Mulrooney.