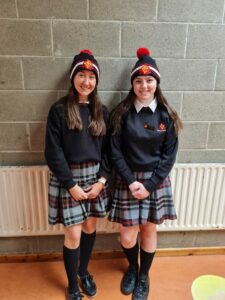 The Camogie Management and players of Coláiste Phobal Roscrea would sincerely like to thank Mr. Robbie Bergin of 'Bergin Kitchens' for their generous sponsorship of new Beany hats for all Camogie Players in Coláiste Phobal Roscrea. We really do appreciate the kindness shown to our students. Pictured in the photos are Andrea Scully and Caoimhe Flannery, joint captains of our Senior Camogie Team, wearing their new beany hats.
ETB Mini Olympics
Congrats to our LCA  Students who brought home bronze medals in the ETB Mini Olympics. Thanks to Roscrea Education Centre for inviting us and Cappawhite Youthreach for hosting. We had a great day.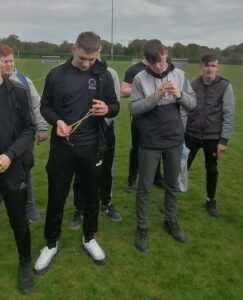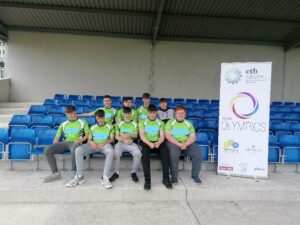 Senior Girls Soccer
On Wednesday 27th April our Senior Girls season came to an end when we faced Maynooth PP in the League Semi final in Killavilla AFC. The game started at a blistering pace with no fewer than 8 goals being shared in the opening half. The half time score was 4-4, our goals coming from Ceola Bergin, Abi Vozza from the penalty spot, Laura Hogan and Ceola Bergin with her second of the afternoon. The second half was like a different game to the first, with defences getting on top and exerting huge pressure on the attacking players. Both goalkeepers were called into action at various stages and were up to the challenge. Mollie Dooley kept us in the game with a few very important saves. At full time, the score remained 4-4 and extra time commenced with 10 minutes per half being played. Maynooth started extra time with an early goal and that set the tone as CPR struggled to muster up the energy to get a back on terms and as time passed Maynooth extended their lead and ensure the victory. The level of skill and talent on display was clear for all to see as many girls from both sides have previously and currently play for league of Ireland U17 and U19 teams.
Our girls will look back on the game as one we left behind us, having led 4-1 at one point, however this group of girls can be extremely proud of their performances and effort all year. The determination and tenacity shown in this game was particularly admirable as the majority of our girls had played club games the previous evening but did not complain once about being tired.
Our panel for the year consisted of the following girls, who all played an important role at various stages of the year: Ellie Feehan, Nicole Brooks, Khya Lynch, Jessica Kelly, Kelsey Wing, Aoife Dillon, Mollie Dooley, Lucy Lee, Maura Phelan, Ciara Maher, Leah Ryan, Abi Vozza, Leanne Doherty, Laura Hogan, Grace Mulrooney, Ceola Bergin, Kayleigh Guidera, Caragh Harnett, Ella Carey & Sheoladh Cunningham Dynan.
It has been a pleasure to be involved with this group all year and we look forward to getting the ball rolling again in September. Special mention must also go to our two 6th year students, Ellie Feehan and Nicole Brooks, for whom this was the last time to wear the CPR colours. These girls have represented the school since soccer was established in the school and have given their all for the cause. We wish them both well in their upcoming exams and into the future. Thanks to all the parents who consistently encourage and support the girls at both home and away games and thanks must also go to Killavilla for the use of their excellent facilities whenever we need them. Thanks Mr. McCormack & Ms. Kearns.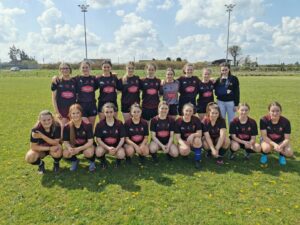 Further Education Students
A massive congratulations to all our QQI Level 5 & Level 6 students who have just successfully completed their final coursework and exams. It was a busy year but students benefitted hugely from  the knowledge and practical skills which they gained since they started their courses last September.  We wish each of them the very best in their future, be that continuing on with further studies or entering the workplace.  For those entering the workplace, many have already gained employment locally which is a great achievement. Well done to one and all.
CAMOGIE SPONSORSHIP 
The Camogie management and players of Coláiste Phobal Roscrea wish to thank, most sincerely, the following organisations/companies:
Camross Camogie Club
Cronans Camogie Club, Roscrea
Moneygall GAA club
Shinrone Camogie Club
Paula Larkin of Naomh Brid Camogie Club
The Parents Association of Coláiste Phobal Roscrea
Joe Fitzpatrick of 'Fitzpatrick Travel Roscrea'.
Offaly County Camogie Board
Liffey Mills
Robbie Bergin- Bergin KitchensThe kind and generous sponsorship we received has been phenomenal. We are so grateful and thankful to you all for your continued support.

Rice Cup

On Thursday the 28th of April, our U14 hurlers travelled to Abbey CBS, Tipperary Town to compete in the Rice Cup Shield. A strong panel of 20 players made up of 1st and 2nd year students, made the journey to compete against schools from throughout Munster to claim the prestigious title. Drawn in a group with Nenagh College, Abbey CBS and Doon, our boys performed excellently, winning all three games and qualified as group leaders for the semi-final.

A strong Our Lady's, Templemore side awaited us in the semi-final. A dominant first half display laid the foundations for a comfortable victory, booking CPR a place in the final against CBS Charleville. A strong defensive performance laid a platform for a clinical attacking display. When the full-time whistle blew, our boys were victorious on a score line of 4-9 to 0-3. Limerick Senior Hurling Manager and principal of Abbey CBS presented team captain Aaron O'Donoghue with the Rice Shield.

A huge thank you to Abbey CBS for hosting and teachers Mr. Delaney, Mr. Pollard and Mr. Sheedy for the work they done with the team.

Girls East Munster Track and Field Championships.

Coláiste Phobal Ros Cré had a very successful day in the Girls East Munster Track and Field Championships which were held in Waterford RSC on May 4th. Marie Shanahan got the team off to a great start with a silver medal in the minor girls shot putt. Marie's best throw of 8.15m guarantees her a place in the Munster Final in Templemore on May 21st. Next up were the 100m heats and finals. Mia Steele ran a strong heat finishing fourth and Tierna Conlon came 6th in her heat. Freya Frain was 4th in the junior final, Ali Gleeson ran well in the Intermediate final. Alannah Dunford added to the medal tally when she ran a tremendous race in the senior 100m final finishing 2nd  in a time of 13.64. Later on Alannah ran in the 200m final and crossed the finishing line in 3rd place. Kiera Fletcher finished strongly in the minor girls 200m heat while Alysha McNamee qualified from her heat, but unfortunately was outside the medal places in the final.

Hurdles were next on the agenda and Lily-Anne O'Meara set the pace in the minor 75m hurdles. Immediately after winning her heat, she lined up for the final and in true style brought home the gold medallion a fantastic time of 12.98. Lily-Anne and Kayla Dooley took part in the minor long jump. Unfortunately Kayla broke on her 1st two jumps but she had a good jump of 3.75m in her 3rd attempt placing her 8th in the competition. Lily-Anne qualified for a further two jumps and with her best jump of 4.36m came 2nd.

As always, the day drew to a close with the relays. The intermediate team, Ali Gleeson, Freya Frain, Kelly-Anne O'Meara and Amy Delahunty gave a fine performance. The minor team, Mia Steele, Lily-Anne O'Meara, Tierna Conlon and Kayla Dooley ran a super heat and finished in first place. However, similar to the county championships the relays were judged on fastest times, and again our team came home with the bronze medals. With only .62 seconds between 2nd and 3rd place, hopefully the girls can improve for the Munster finals.

We wish Alannah Dunford, Lily-Anne O'Meara, Marie Shanahan, Mia Steele, Tierna Conlon and Kayla Dooley the very best of luck in the forthcoming Munster Finals.

The Minor Relay team: Mia Steele, Kayla Dooley, Tierna Conlon and Lily-Anne O'Meara.
The athletes from CPR who participated in The East Munster T&F championships.
German Essay Writing Awards
Congratulations to Nadine Simplicio, 5th year who was a prizewinner in the Irish Austrian Society German Essay competition. Nadine wrote an essay in German on why we need the European Union and came 3rd in the senior category.
Prizewinners were guests of honour on Thursday 29th of April at the residence of the Austrian ambassador, Dr. Thomas Nader.
The Irish Austrian Society also present the Catriona Dowling perpetual trophy to the teacher, who in the opinion of the adjudicators, has demonstrated commitment to and enthusiasm for the essay competition. Nadine's German teacher Eimear O Meara was runner up this year and was also presented with an award.
Congratulations to Nadine and Ms. O'Meara from all here in Coláiste Phobal.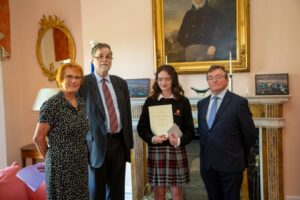 Ulrike Scholler (vice president Irish Austrian Society), His  Excellency Dr. Thomas Nader Ambassador of Republic of Austria, Nadine Simplicio and Dr. Declan Downey (President Irish Austrian Society)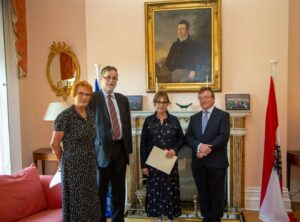 Ulrike Scholler (vice president Irish Austrian Society), His  Excellency Dr. Thomas Nader Ambassador of Republic of Austria, Ms. Eimear O'Meara and Dr. Declan Downey (president Irish Austrian Society)
Liffey Mills Camogie Sponsorship
Pictured is Mr. Neil Maher (Liffey Mills) presenting a set of new training tops to the Coláiste Phobal Roscrea senior camogie team. We are so grateful to Liffey Mills for their kindness and generosity.