SENIOR GIRLS SOCCER VS. NAVAN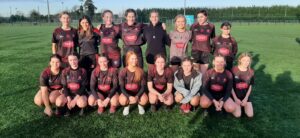 CPR Senior Girls Soccer : CPR 9-1 Loretto Navan
On Tuesday December 6th our girls made the long journey to Navan Co. Meath to play Loretto Navan in the last 16 of the Leinster A cup. On a bright and cold morning our girls made a steady start to the game and passed the ball well on the all-weather surface.
It took 19 minutes for the first goal to come from Ceola, who bravely got on the end of a through ball just before colliding with the Navan goalie. Soon after our second goal came from Abi with a long-range strike that flew into the top corner. Ceola got her name on the score sheet again soon after, slotting calmly past the goalie, who was less reluctant to come out after the previous collision.
After this, Navan began to play some better football and were rewarded with a goal in the 27th minute. A fantastic free kick from outside the penalty area had the power and accuracy to find the bottom corner despite a valiant effort from Mollie in goal. However, this period of positive play was short lived as Kelsey and Laura combined down the right wing with Kelsey firing a powerful strike into the bottom left corner. Ceola completed her hat trick just on the stroke of half time, leaving us in a dominant position at the break.
The second half saw us introduce our subs and this did not alter the flow of the game in the slightest. We added 4 more goals from Ceola, Lily Anne, Ella and an Own Goal by a Navan defender, forced by great pressure from Leah.
This was a great day out for the girls and special mention must be given to our younger players, Kaitlyn, Mya, Lily Anne and Leah for stepping in at short notice and performing so well. Thanks to the parents who travelled to support us. Our next game will be a Leinster quarter final vs St Joseph's Rochfortbridge in the coming weeks.
Tipperary Girls Badminton
On Wednesday December 7th our Badminton Girls teams travelled to Our Lady's Templemore for the County competition. Our U16 girls were successful in their competition overcoming Presentation Thurles. The successful team comprised of Fia Dooley, Ciara Crofton, Abi Marks and Tierna Conlon McLoughlin.
6th Year Geography Trip
Our 6th years recently completed their Leaving Cert Geography Field-trip The investigation took place close to the Glenbarrow waterfall in the Slieve Bloom Mountains. The project is worth 20% of the overall mark for Leaving Cert Geography.  Thanks to Mr. Delaney, Mr. McCormack and Mr. Slattery for accompanying the students on the trip.