ALL SHOOK UP
Coláiste Phobal Transitiion Years are again preparing for their annual musical 'All Shook Up' which will take place from 26-28 November. The transition years are as enthusiastic as ever getting ready, learning lines, practicing dance routines and rehearsing songs. As always booking is on a first come first served basis. Seats may be booked by phoning 0505-23939 and early booking is advisable.
First Year Tipperary Hurling Blitz
On Tuesday 4th November the First Year Hurlers played a Tipperary Blitz in Dr. Morris Park, Thurles. The lads aquitted themselves very well and won 4 matches enroute to the Final where they were eventually beaten by a team that they beat had in the first game. They played Scoil Mhuire in the first game and beat them on a score of 1.1 to 0.1. This was helped by a great point from a free by Killian Sampson and a poachers goal by Jack Delaney. In the second game we played Thurles CBS and beat them 4.4 to 0.0 with good performances right throughout the team. Our third game was against Comeragh College and we beat them 3.3 to 0.2. In our fourth game we played Our Lady's Templemore and won 3.5 to 1.1. This got us to the Final where we once again met Scoil Mhuire, Thurles. They were to prove too strong for us and got 2 quick goals at the beginning of the first half to leave us with an uphill battle. Everyone fought hard but it was not to be in the final however a great effort was given which augers well for the remainder of the year. Well done to all the panel which included: Dara Maher, Jamie Boland, Jack Delaney, Niall Delaney, James Dooley, Jack Flannery, Ryan Hanlon, Ben Higgins, Craig Lally, Tomás Teehan, Kevin Moore, J.J. O'Brien, James Whyte, Killian Sampson,  Luke Seacy, Luke O'Gorman, James Dooley and Jack Delaney.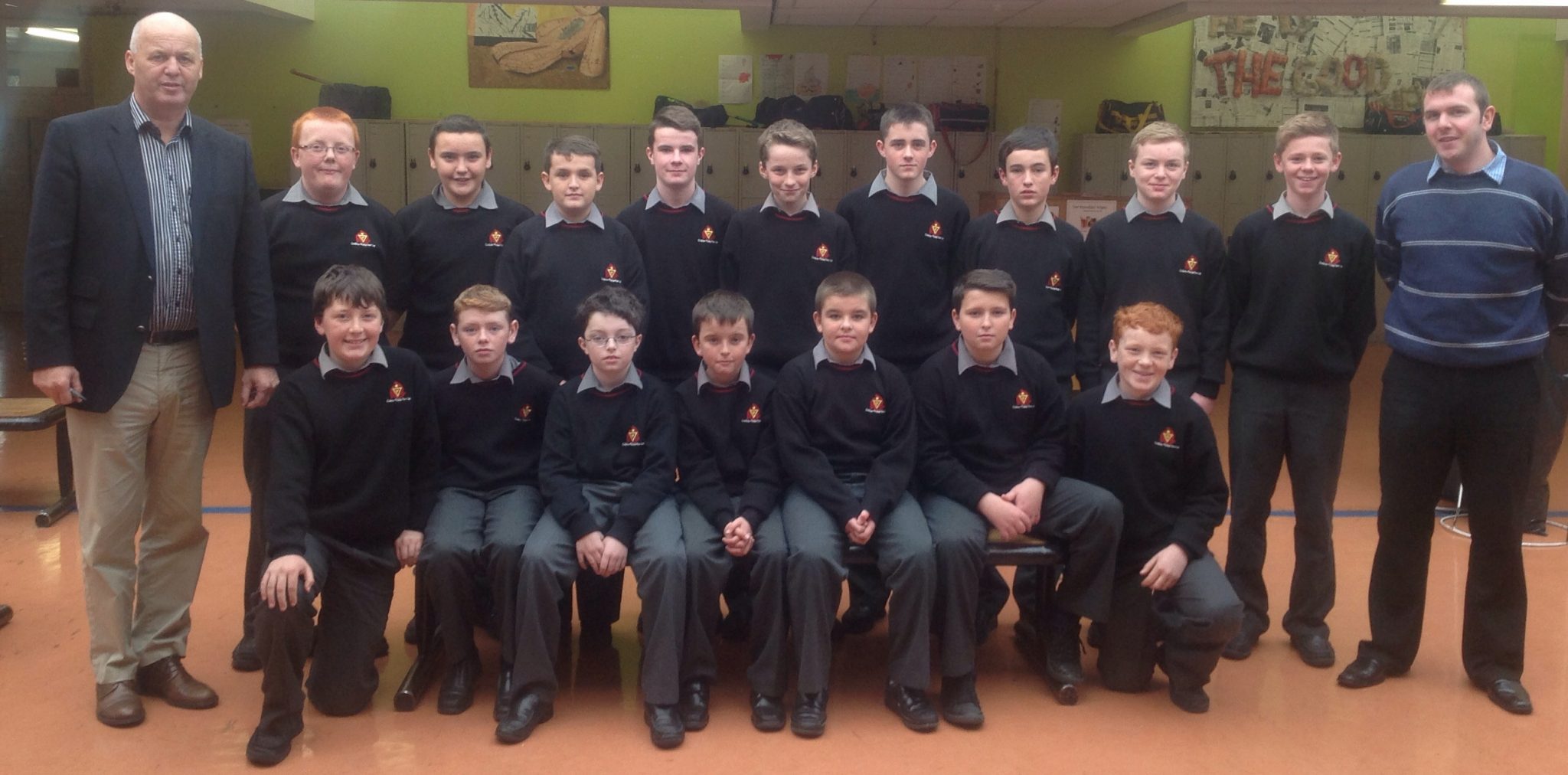 UCD ENTRANCE SCHOLARSHIPS 2014
Congratulations to Katie Coonan and Jamie Carroll on being presented with Entrance Scholarships
in UCD on Wednesday 12th November for their high point achievements. Jamie who was last year's
Head Boy represented Ireland in Australia in the Tetrathlon events gained entry into Engineering.
Katie Coonan also a previous Pefect gained entry into Veterinary Science. We, at Coláiste Phobal Ros Cré
are very proud of their achievements and congratulate both students.
We wish them every success in their chosen paths.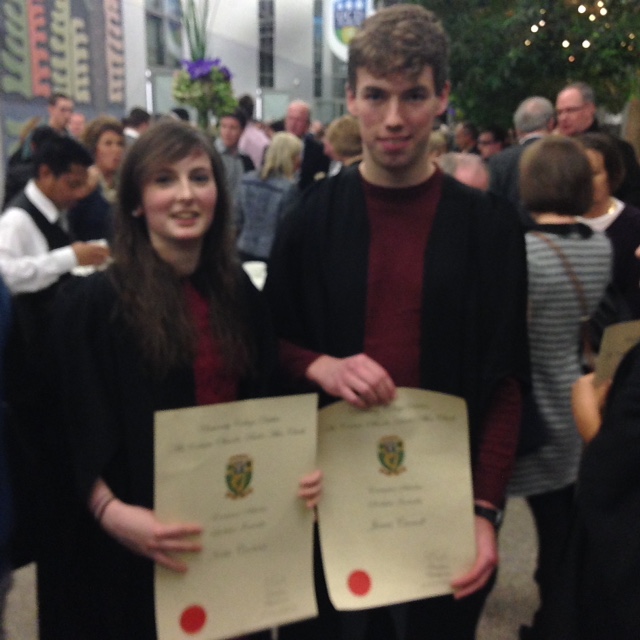 Coláiste Phobal Musical
Transition Years are again preparing for their annual Musical. This year's choice is the ever propular 'All Shook Up'.
The TY's are as enthusiastic as ever getting ready, learning lines, practising dance routines and rehearsing songs.
As always, booking is on a first-come-first-served basis. Seats may be booked by phoning 0505-23939 and early
booking is advisable.
Conradh na Gaeilge (Nenagh Branch)
The annual Feile na Samhna Tráth na gCeist Bord took place in the Abbey Court Hotel, Nenagh on Tuesday last from
11.00 – 12.30 p.m.
Various schools from Tipperary North took part, together with 5 teams of 4 students each from Coláiste Phobal Ros Cré,
Ursuline Convent, Durlas Eile, Borrisokane and the three schools from Nenagh itself, Marcy Convent, C.B.S. and Coláiste
an Aonaigh.  Approximately 30 teams took part.  The Quiz consisted of 9 rounds of 5 questions, 2 of the rounds being
picture identification. There was a broad range of questions covering general knowledge, current affairs, entertainment,
sport, history and geography. Coláiste Phobal has had a great run of success over the past ten years, being regularly
placed in the top three prize categories, and outright winners on a number of occasions. Unfortunately our top placed team
missed out on 3rd place this time by just 2 marks with a great score of 31 out of 45, the winning team scored 34. The team
comprised of Joe Kennedy, Ian Spencer, Eimhin Ward, Cody Moloney. The second team consisted of Valentinas Derbutas,
Adam Dooley, Peter Fitzpatrick and Meabh Fletcher. The third team had Isabelle Coonan, Ross Du Berry, Brian Parlon and
Libby Quinlan as members. The fourth team comprised of Peter Maher, Tadhg Nash, Rachel Lynch and Leanne Ní
Chaomhánaigh. The fifth team had Rachel Ní Mhochéiti, Emma Ní Chiarbháin, Amy Parlon, Anastasiya Sytnyk. All of the
students thoroughly enjoyed the day as did the accompanying teacher An t-Uasal Ó Dubháin.
5th Year History Trip
On the morning of Monday 10th November, both 5th Year History classes were prepraring to begin the school's first History
trip.  On the 9 O'clock bell, the tour beus now packed with energised and enthusiastic students and their History teachers,
Ms. Howard and Mr. Fitzgerald began its journey to the first destination, Corke Park. Upon arrival, the historians were warmly
welcomed to the GAA museum before beginning the tour of Croke Park. The tour, a very enjoyable and educational one
included an access all areas guide and truly showed how historic the stadium is and how it played a vital part in forming
Ireland today. Upon the ending of the riveting Croke Park tour the trip them moved on to its next destination, Glasnevin
Cemetery and after a quick look around its own museum, we moved onto a guided tour which was specificatlly catered to suit
the History classes. The tour consisted of the graves and final resting places of some of Ireland's most important political and
reformational figures, including Michael Collins, Eamon De Valera, Charles Stewart Parnell and Arthur Griffith.  After a walk
amoung the tombstones of some of Ireland's most predominatnt figures of the nineteenth centrure, it was time to head home for
the tour. Along the way, the tour stopped into Newbridge Whitewater Shopping Centre for an early start to the Christmas
shopping before continuing on home. Many thanks to Ms Howard and Mr Fitzgerald for organising the trip.
5th Year History Classes pictured at Croke Park