PLC Sector, Coláiste Phobal Ros Cré,
forges links with Bradford University, Leeds
Gerard O'Brien, Principal, Coláiste Phobal Ros Cré and PLC Coordinator, Mary McGrath are delighted to announce that the Nursing/Health Post-Leaving Certificate Sector of the College are currently forging progression Links with Bradford University, Leeds.  PLC Nursing and Healthcare Tutors, Ingrid Condell, Coláiste Phobal Ros Cré, and Mary Ryan Maher, Coláiste Mhuire, Thurles, recently visited the School of Health, Nursing and Midwifery in Bradford University, and met with recruitment and academic staff and students in the school of Nursing and Health.
Admission to Nurse training programmes in England is not points driven as it is in Ireland. Students are selected on the basis of personal qualities and suitability. The application process involves writing a personal statement containing information about personal suitability for nursing, providing a reference and doing a group and individual interview.  Sue Elson, Lecturer at the College, agrees that the QQI Level 5 Nursing Studies course is an excellent preparation for studying nursing in the UK, she feels that the work experience element of the QQI course is invaluable in helping students to build up the skills necessary to pursue a career in nursing or midwifery. Bradford University is a medium sized university and the School of Health Studies have courses in Nursing, Midwifery, Health and Social Care, Physiotherapy and Occupational Therapy.  Irish students studying there have no registration or tuition fees as these are sponsored by the NHS.  Accommodation costs are similar to those in Limerick and Cork but cheaper than Dublin.  Irish students who qualify for maintenance grants in Ireland may bring their grant with them to the UK.
The tutors met with both English and international students who agreed that the supports for students in the University are excellent.  The on-campus accommodation is three minutes walk from the Nursing building and there are lots of societies and groups to join. As Mary Ryan Maher highlighted, "Bradford University has a friendly and homely atmosphere".  Ingrid Condell made a presentation to recruitment staff at the University informing them of the structure and content of the QQI Nursing Studies programmes in Roscrea and Thurles.  "We had a very positive response from staff" she says, "Mary and I are both experienced nurses, and with the support of fellow staff and management, ensure our College programmes are relevant to the current demands of the profession and further education requirements both in Ireland and in the UK.  We provide additional training in Patient Moving and Handling, CPR and First Aid, Hand Hygiene and Elder Abuse Awareness. We very much look forward to strengthening our links with Bradford and other UK universities in the future."
Mary McGrath, PLC co-ordinator, is also delighted to say that progression links are also currently being established with Irish Colleges (Waterford IT, LIT (Tipperary), Athlone IT) for the other PLC programmes offered by Colaiste Phobal Ros Cré in Business and IT, Childcare and Security Studies.
This year the College offers a new programme in Community Development with Youthwork.  An Information/Enrolment Evening for our PLC programmes will take place in the College on Monday, 9th March at 8 pm.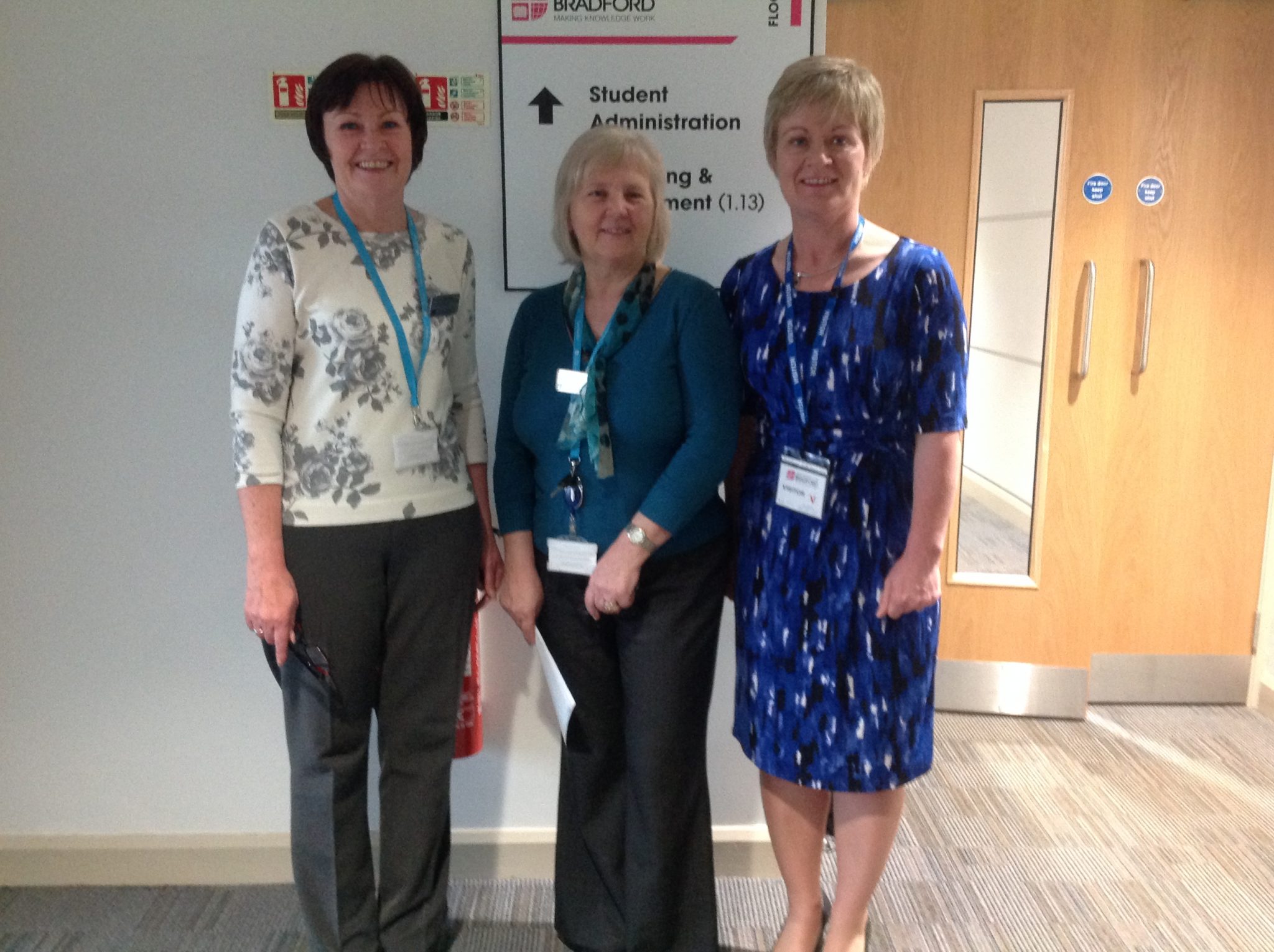 Pictured from left to right: Rachael Gartland, Head of Recruitment for UK and Ireland, Sue Elson, Lecturer, School of Nursing, Bradford University, Leeds and Ingrid Condell, Nursing/Healthcare Tutor, Coláiste Phobal, Ros Cré during her recent visit to the Universtiy.
Student Enterprise Awards  – Encouraging Young Entrepreneurs Through its ethos and education
Coláiste Phobal Ros Cré encourages young people to view enterprise as a career choice and develop entrepreneurial skills and qualities, in the hope of helping to create the business successes of tomorrow. Students at Coláiste Phobal Ros Cré have created several small enterprises and through the local Enterprise Board have gained valuable advice and mentoring as well as the experience of setting up and running a small business. Establishing innovative local business is key to the creation of sustainable growth in our communities, the future of this is in the innovation and expertise of the students of today. The students of Coláiste Phobal Cré give us a lot to be optimistic about. Local Enterprise Boards through their programmes and initiatives aim to reinforce entrepreneurship in education. One of these initiatives is the Student Enterprise Awards, the largest national competition of its kind in which young entrepreneurs compete with each other at local, regional and national level. Each year over 17 000 students take part in this competition. Students of Coláiste Phobal RosCré entered several businesses in The Student Enterprise Awards this year. Entries were in two separate categories in the initial stage of the competition held on Friday 16th January 2015. In the Intermediate Category Neil Maher, a 3rd Year Student entered his successful business. Neil Maher Eggs – selling Farm Fresh Eggs locally. In the Senior Category several innovative businesses were entered in the competition by Transition Year students from their Enterprise Class and German Class. The Stick Stack – an Innovative Storage Solution for Hurleys and Sliothars. Marker Parker –attractive and useful storage solution for markers in the classroom. Roscrea Cards – attractive Personalised Playing Cards. Der Smoothini Wagen – an innovative Mobile Smoothie Bar selling Fresh Smoothies. The German Transition Year Class. Coláiste Phobal Ros Cré wishes every success to its students at County Level of the Student Enterprise Awards on Friday 6th March 2015, at LIT Thurles Campus. Congratulations to all students on the impressive achievement of creating small businesses and entering the competition.
People of the Year Citation
Congratulations to Coláiste Phobal Ros Cré Senior Hurling Panel who recieved a Citation for their All-Ireland Hurling win early last year.