Transition Year London Trip
On the 16th April 2015, 49 Transition Year students along with four teachers, Ms Egan, Ms Howard, Mr Flynn and Mr O'Brien embarked on the first foreign trip with the school in six years.
Our trip began on a bus outside the school at 3.30am Thursday morning. We headed to Shannon Airport where we eagerly awaited our flight to Standsted London.
On arrival we were greeted by a double decker tour bus which brought us around to see what wonderful sights London had to offer. We saw Big Ben, Westminster Abbey and the Tower of London. We then enjoyed walking around the outskirts of Buckingham Palace and experienced watching the changing of the guards.
Covent Garden was next on our guided tour, there we had some time to shop and grab something to eat.
Later that night we went to the Novello Theatre where we saw an outstanding performance of Mamma Mia. The show exceeded our expectations and proved to be one of the highlights of everyone's trip.
An early start the next day lead us to the Shakepeare Globe where we learned a lot about its history and got the chance to take part in a workshop that gave us an insight into the play we will be studying next September.
The next three hours consisted of visits to the Science Museum and the Natural History Museum, these were both full of exciting things to discover.
That evening we dined in Pizza Express where we celebrated one of our classmate's birthday.
Our next activity was highly anticipated by everyone and turned out to be another memorable item on our itinerary.
As a group, we appreciated great views of London as we travelled between Greenwich Peninsula and The Royal Docks on the Emirates Airline Cable Cars, London's newest tourist attraction.
On our last day we had breakfast as a group in the hotel, packed our bags and left for Greenwich for some personal sightseeing and experienced Greenwich Markets.
Our final stop before Stansted Airport was Westfield Shopping Centre the biggest urban shopping centre in Europe. We shopped till we dropped here for four hours which proved to be too much for some people!
Our spectacular adventure came to an end at 11.30pm when we all arrived safe and sound back at the school with a new-found understanding of exhaustion!
The trip really exceeded everyone's expectations and it will always be one of the most unforgettable experiences of our school life.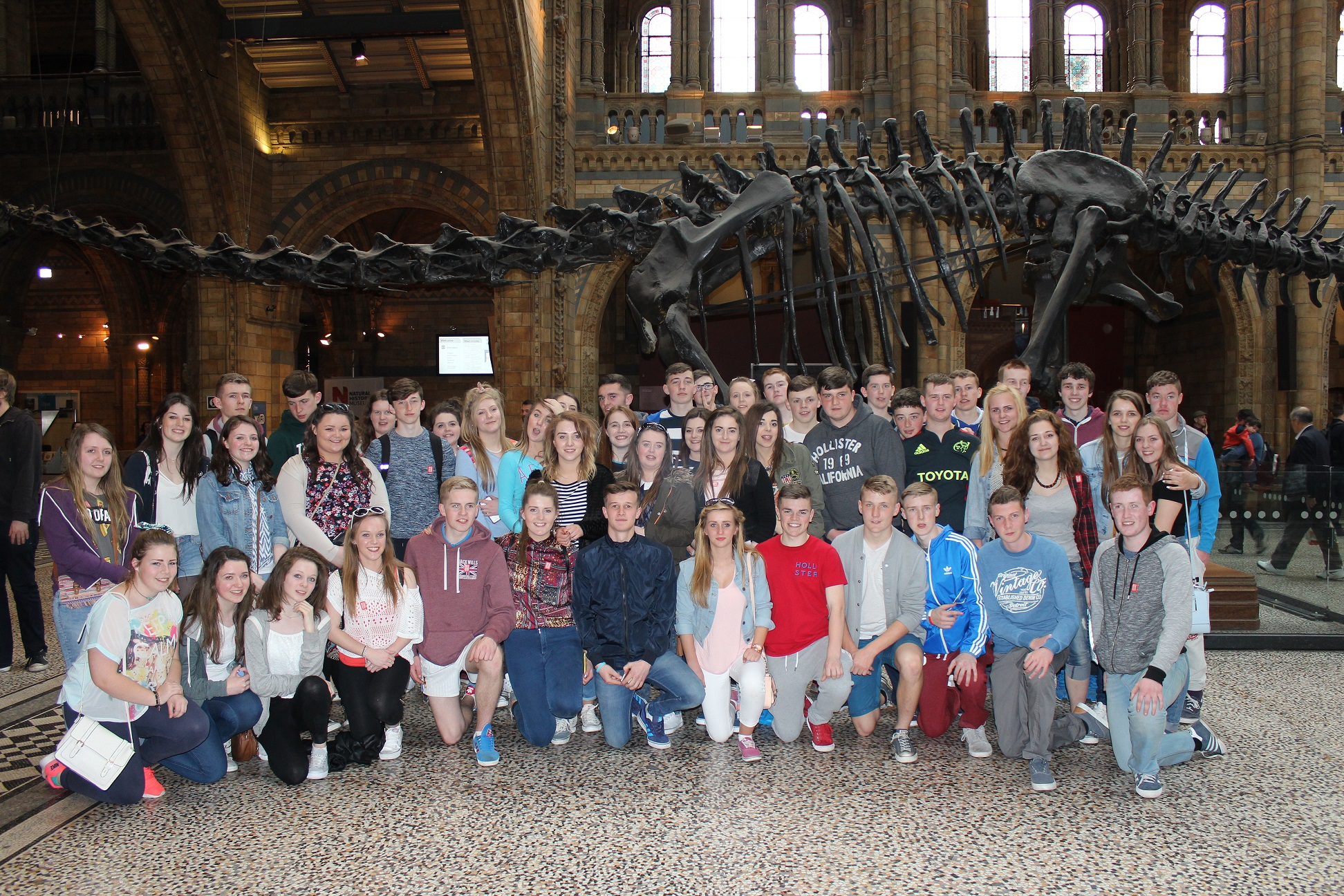 Coláiste Phobal Ros Cré Transition Year 2015 Group at the Natural History Museum on their recent London Trip.  
Coláiste Phobal Athletics
The East Munster Schools Boys 2015 Track and Field Championships took place in Waterford Regional College on Wednesday 6th May.
Coláiste Phobal Ros Cré were represented by six 1st and 2nd Year students. The day started well for them, with the Junior boys long jump being the first field event to take place. Both Adam Dooley and Kevin Moore jumped in the first three rounds and both qualified for a further 2 jumps. Kevin finished in 7th place overall and Adam finished in 2nd place with 5m 46 as his best jump. This was followed by the minor boys long jump where Wojciech Spyra took part. Wojciech won a silver medal with his best jump of 4m 38.
Meanwhile on the track, both  Nathan Finnerty and Tadhg Nash ran in the Junior boys 200m sprint, finishing in 4th and 5th place respectively. Alistair Robson jumped well in the Intermediate boys long jump and also ran in the 100m where he crossed the line in 4th place in his heat. In the Junior boys 100m Adam Dooley and Kevin Moore both won their heats and lined up in the final. Kevin ran well to finish in 5th place and Adam ran an excellent race to comfortably bring home the gold medal.
For the final event of the day the Junior boys ran in the 4 x 100m relay. Wojciech ran well in the first leg and handed the baton on to Tadhg Nash. Tadhg also ran well. In the 3rd leg, Nathan Finnerty ran the bend really well and gained some ground before handing over to Adam Dooley for the last leg. Adam ran a tremendous final leg and crossed the finishing line in 1st place. A short while later the boys lined up again for the final, full of hope. However it was not to be. One exchange simply didn't go to plan and unfortunately despite their best efforts the boys failed to qualify for the Munster finals in this event.
However, both Adam Dooley and Wojciech Spyra go on to compete in the Munster Championships on May 16th. Adam will compete in the Junior Long Jump and the 100m, and Wojciech will compete in the Minor Long Jump. Best of luck to both athletes on the day.