Awards Ceremony
Coláiste Phobal Ros Cré held its Academic Awards afternoon last Wednesday 20th May. The afternoon commenced with the Senior Academic awards. The following were the recipients- Accounting Award– Ciara Ryan, Certificate– Paula Quinlan, Agricultural Science Award– Mairead Teehan, Art Award– Anna Higgins, Certificates– Matthew Phelan, Seána O'Hara, Aoibhe Ward. Art L.C.A. Achievement– Gordon Clare, Joseph Delaney, Kynita Brennan, Claudia Donoghue, Gemma Woods. Biology Award– Hugh Bulfin, Niall Devitt, Paul Scully, Certificates– Donal Carroll, Paul Crampton, Niamh Gunning, John McCabe. Business Award– Declan Cleary, Certificates– John McCabe, Margaret Cleary, Tony O'Connor, Fergal Flanagan, Paul Crampton. Chemistry Award– Declan Cleary, Certificates– John McCabe, Niall Devitt. Construction Studies Award– Jack Delaney, Certificates-Mairead Teehan, Darragh Morrissey, Eoin Cooke, Jordan Fogarty, Eoin Fogarty. D.C.G Award– Eoin Hobbs, Certificates– Eoin Cooke, Jack Delaney. Engineering Award- Conor Spendlove. English Award– Katrina Murray, Niall Devitt. French Award– Niall Devitt, Certificates– Fergal Flanagan, Kelly Maher. Geography Award– Paul Scully. German Award– Paul Crampton. Certificates– Ms. Nielsen's TY Class. History Award– Hugh Bulfin, Certificate-Niall Devitt. Home Economics Award– Niamh Gunning. Irish Award-Eoin Hobbs. L.C.V.P Award– Paula Quinlan, Certificates-Roisin Dwyer, Annabel Newberry, Jonathan Roe, Ciara Ryan, Emma Murray, Chloe Kirwan. Maths Award– Daire Murray, Certificates– David Williams, Emma Murray. Music Award- Fergal Flanagan, Certificates– Kelly Maher, Ciara Lupton, Emma Murray. Physics Award– Eoin Hobbs, Certificates-Hugh Bulfin, David Williams, Paul Scully, Aoife Bulfin, Aine Corbett, Jim Collison, Thomas Deegan, Jake Blakehurst.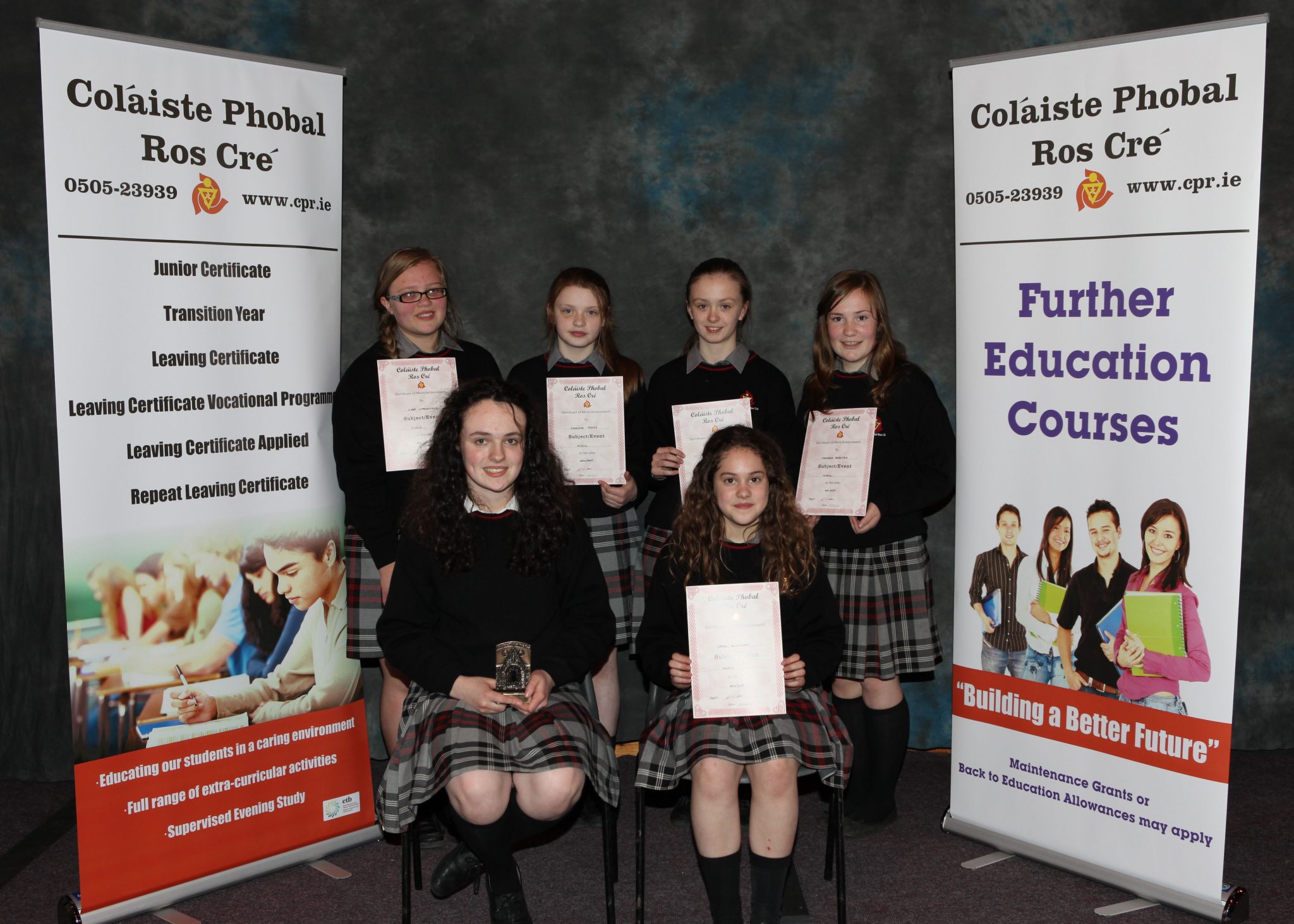 Coláiste Phobal Junior Music Winners
Junior Academic Awards Ceremony followed with the following recipients – Art Certificates– Patrick Lee, Niamh Geraghty, Julie Brennan, Nadia Fletcher, Elizabet Farago, Leah Brookes, Rebekah Bevans, Emma Wright, Josie Poyner, Szymon Redzimski. Business Award– Jack. J. Kirwan, Oonagh Gleeson, Certificates– Laura Murphy, Eimear Gleeson, Graham Fahy, Jake Delaney, Aoife Tynan, Ciara Conlon, Rebekah Bevans, Neil Maher. English Award– Ross Thompson. French Award– Josie Poyner, Certificates– Viktoria Toth, Isabelle Coonan, Peter Maher. Geography Award– Graham Fahy, Oonagh Gleeson,, Certificates– Orlaith Cleary,Jake Delaney, Eimear Gleeson, Cillian Hogan, Kian Morris, Theresa Larkin, Ross Thompson. German Award– Oonagh Gleeson, Certificates- Theresa Larkin, Ross Thompson, Ciara McNicholas, Levente Nagy, Liga Litavniece, Claire O'Connor-Talbot. History Award- Oonagh Gleeson, Certificates– Rory Delaney, Jordan Choppin, Levente Nagy, Leah Brooks, Ciara Conlon. Home Economics Award- Ciara Conlon, Certificates– Ciara McNicholas, Laura Murphy, Ciara Hogan, Debbie Siu, Ruta Kulikauskaite. Irish Award– Ciara Hogan, Certificates- Ciara Conlon, Ciara McNicholas, Oonagh Gleeson, Eimear Gleeson, Jack Kirwan. Materials Technology Certificates– Evan O'Donoghue, Laura Murphy, Ross Thonpson, Paul Costello. Maths Certificates- Levente Nagy, Ruta Kulikauskaite, Oonagh Gleeson, Jack J. Kirwan. Metalwork Award– Jack J. Kirwan, Certificates– Ross Thompson, Roddy Teehan, Dylan Fitzgerald, James Roe, Stephen Carey. Music Award– Eimear Gleeson, Certificates– Kelly Feehan, Jade Quinlin, Caoimhe Tuohy, Liga Litavniece, Melissa Rossiter. Science Award– Jack J. Kirwan, Certificates– Levente Nagy, Ruta Kulikauskaite, Ciara Conlon, Ross Thompson, Theresa Larkin, Graham Fahy, Daniel Crean, Leah Brooks. Technical Graphics Award– Jack J.Kirwan, Ruta Kulikauskaite. Certificates– Rory Delaney, Roddy Teehan, Stephen Carey, Raminta Derbutaite, Graham Fahy, Ruta Kulikauskiate, Neil Maher, Levente Nagy.
The Academic Awards were followed by the Personal Achievement and Sporting Awards. We at Coláiste Phobal Ros Cré were honoured to have these awards presented by the Tipperary Hurling Captain Brendan Maher. There was complete silence as Brendan spoke to the whole student body assembled. He gave a background to his education and pathway through sport to where he is today. He emphasised the importance of hard work, study and balance to all facets of one's life. He emphasised very strongly about the effect social media can have on thoughts and opinions and advised students not to part take in social media sites before and during exams. Brendan was a most positive and sincere speaker and we feel that the students of Coláisate Phobal Ros Cré really benefited from his visit.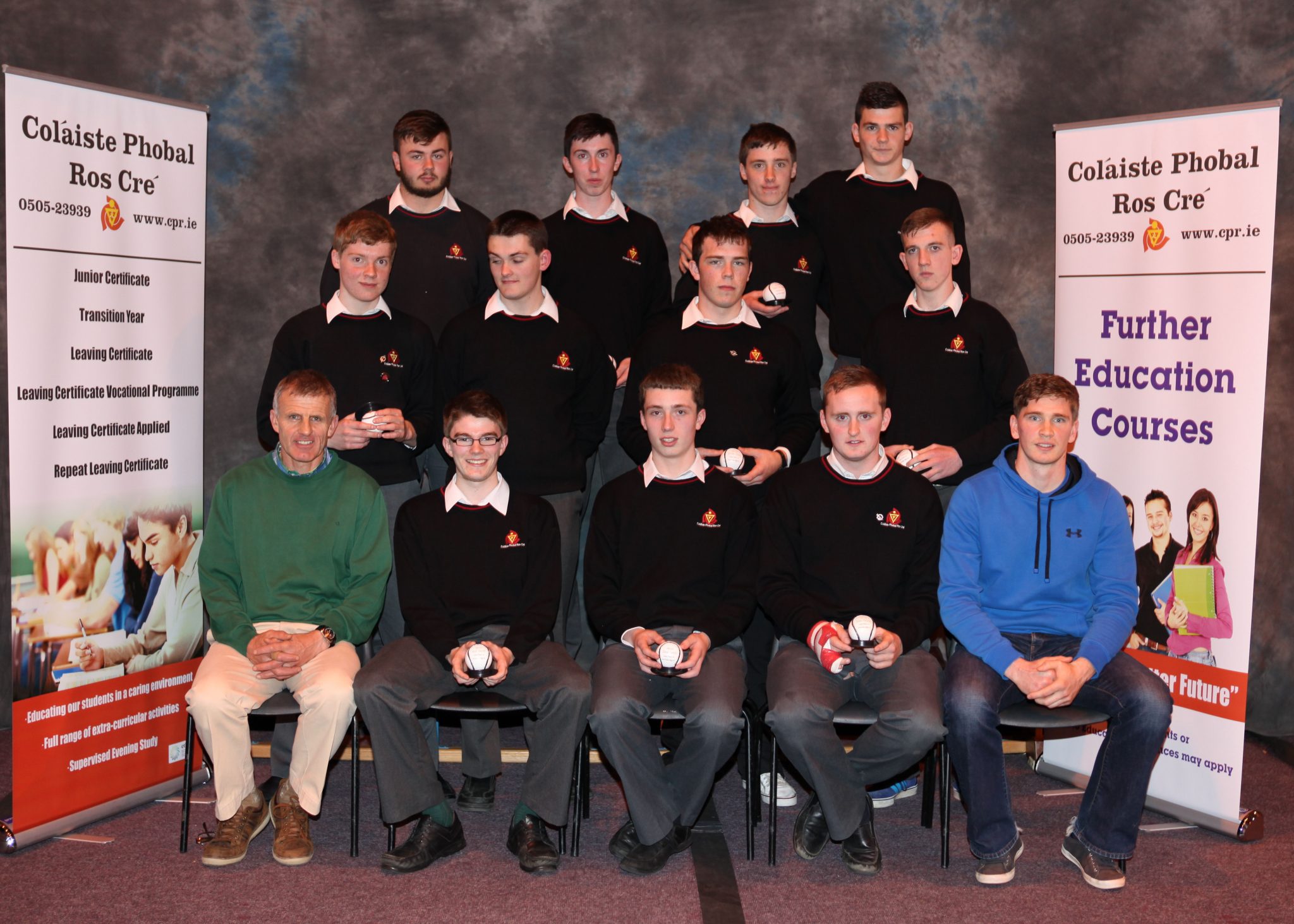 Coláiste Phobal Leaving Cert Hurlers with Mr. Smyth and Brendan Maher Tipperary Hurling Captain
The Personal Achievement Awards were- Student Council– Luke Seacy, Emma Choptiany, Adam Dooley, Lauren Egan, Daniel Ryan, Emma Wright, Colman Treacy, Katie Ryan, Evan Hassett, Aine Corbett, Dylan Coffey, Paul Crampton, Katrina Murray, Oliver Curtis.
Prefects Awards– Head Girl Mairead Teehan, Head Boy Eoin Hobbs, Kelly Maher, Hugh Bulfin, Sarah Heaney, Declan Cleary, Ciara Lupton, Paul Crampton, Nikki Murphy, Fergal Flanagan, Aine Malone, Enda Moloney, Mairead Williams, Paul Scully, Gemma Woods, Paddy Quinlan. Camogie Awards- Senior – Lucy Ryan and Mairead Teehan (Outstanding Achievement Award). Junior– Orlaith Cleary, Certificates- Emma Murphy, Aine Gleeson, Fiona Scully, Eilish Gleeson, Ciara Sammon, Jane Cleary. Hurling Award 1st Year- Dara Maher. Badminton Award U19 All Ireland Runners up– Andrew Cullen, Enda Moloney, Tony O'Connor, John McCabe.  Soccer Award– Wojcieich Spyra, L.C.A. Student of the Year 5th Year- Niamh McNamara, 6th Year Joseph Delaney. L.C.A. Soccer Blitz team.
Silver Gaisce Award – Jack Doherty, Nikki Murphy, Daire Murray, Joseph Phelan, Jonathan Roe, Michael Rosney. Junior Entrepreneur Award– Neil Maher. Senior Entrepeneur Award- Cathal Nash. Choral Award– Stephen Lee and James McKelvey. Certificate– Luke Spencer. Green Schools Award– Enrika Reinyte, Certificates- Claire O'Connor-Talbot, Isra Saleem, Siobhan Kearney, Simona Staponkute, Emily Walsh, Chloe Kenneally-Bateman, Lorcan O'Meara, Amelia Lown, Raminta Derbutaite, Kane Walsh, Eamonn Ryan, Dylan Heaney, Niamh Troy, Michael Hannon. Limerick F.C. Athletics-   Youth Award– Paul Costello, Kevin Fitzgerald (both winners of U16 Division).
Athletics Award- Adam Dooley. ETB Talent Search Award– Senior Winner- Eoin Hobbs, Junior Runner-Up- Orlaith Cleary.
School Draw- Odhran Dooley. Fundraising– Stephen Monahan (€280 raised for Pieta House 'Darkness into Light' walk).
Boxing Award– Michael Doyle (All-Ireland Winner).
We congratulate all of our winners both Academic and Personal Achievement and sincerely thank our guest Brendan Maher for taking the time to participate in our ceremony.