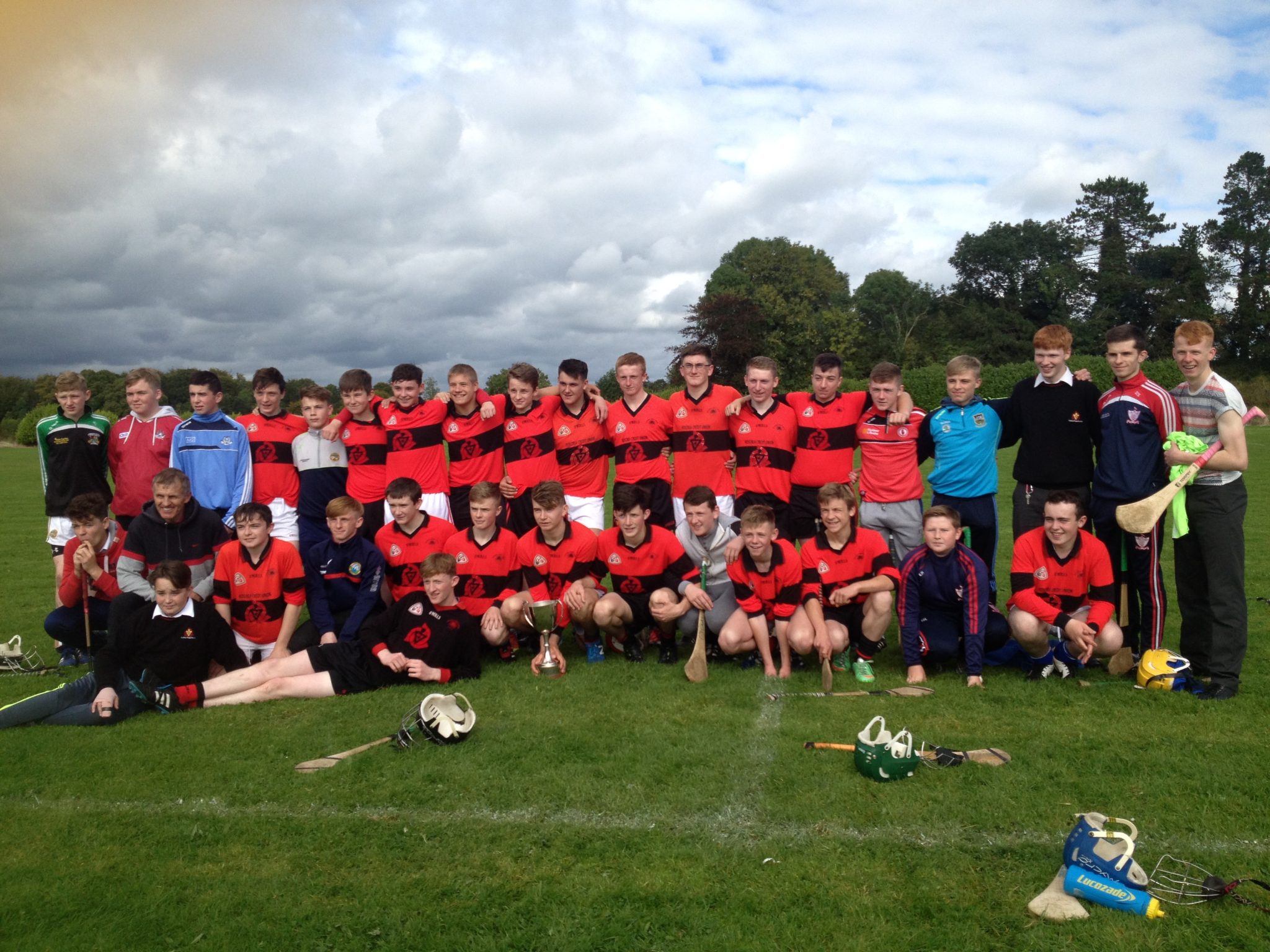 Coláiste Phobal Ros Cré Junior Hurlers with Coach Mr Smyth after winning the Fr. Eanna Cup
The Junior Hurlers of Coláiste Phobal Ros Cré with their coach Mr. Smyth got their season off to a flying start by winning the Fr. Éanna Cup for the second time on Tuesday 22nd September at the Cistercian College. Though fielding an unstrength panel due to the absence of the Roscrea players who were club tied, the players took on the task with great enthusiasm and determination allied to great hurling skills.
Our first match was against Killina C.S Co. Offaly and after a hard fought  game, the Coláiste boys got off to the perfect start of any Blitz competition with a good victory.
Our next game was against Ballingarry Presentation. Again this was a tough match but the Coláiste Phobal lads came out on top with  some great play from Cillian Ryan, Mark Fanning, Gearoid Murphy, Jack O'Brien, Joseph Fogarty, Jack Bourke, Gearoid Sampson, Coley Cleary and a couple of vital goals from Cillian Sampson. In our final group game we faced St. Josephs, Tulla Co. Clare. Once again, Coláiste Phobal took the game to the opposition from the start and though scores were hard to come by, Coláiste Phobal edged it at half time. There was a lengthy stoppage in this game after Dillon Fitzgerald picked up a serious injury, thankfully nothing broken. On the resumption, Coláiste really drove on with William Abbot, Coley Cleary, Paul Costello, David Jones, Jack Kirwan and Roddy Teehan all putting in serious games. Another victory and Coláiste Phobal was into the final against old rivals Scoil Ruain Killenaule. With renewed determination the Coláiste Phobal lads were not going to be denied in this one and all of the players put in a serious effort. Coley Cleary, Mark Fanning, Cillian Ryan, Roddy Teehan, Jack Bourke, Gearoid Sampson, Matthew Fogarty, Rian Lee, Dara Maher, Jack Kirwan, Neil Maher, David Jones, Gearoid Murphy, Eamon Cleary, Patrick Sammon, Paul Costello and William Abbot all contributed to a great victory on the day. Gearoid Murphy recieved the Fr. Éanna cup on behalf of Coláiste Phobal's Junior panel and thanked the Cistercian College for a great day and thanked all of the officials and everyone who took part.
1st Year and 6th Year Parents Meeting
There will be a First Year Parents meeting on Wednesday October 7th at 7.30pm in Coláiste Phobal. This meeting will deal with first year options and all Parents/Guardians are encouraged and advised to attend. Also there is a meeting for 6th year Parents on Wednesday 30th at 7.30pm. This meeting is on "Options after Leaving Certificate" and Parents/Guardians are advised to attend.