Back To The 80's
Colaiste Phobal Ros Cre
Transition Year Musical
From the era that brought the world the Rubik's Cube, Max Headroom and The Teenage Mutant Ninja Turtles comes this 'Totally Awesome' Musical in the style of Back to the Future and The Karate Kid.
The Cast are as follows:
Corey Palmer Sr – Joseph Fogerty
Corey Palmer Jr – Neil Maher
Alf Bueller – Graham Fahy
Kirk Keaton – Rory Delaney
Tiffany Houston – Emma Wright
Cyndi Gibson – Erica Deane
Mel Easton – Leah Brooks
Kim Easton – Lisa Quinlan
Michael Feldman – David Jones
Billy Arnold – Mark Fanning
Lionel Astley – Daniel Ryan
Huey Jackson – Dylan Carroll
Fergal McFerrin – Joe Ahern
Eileen Reagan – Laura Egan
Laura Wilde – Rachel O'Brien
Debbie Fox – Katie Scully
Ms Sheena Brannigan – Orlaith Cleary
Mr Stevie Cocker – Paul Costello
Tickets are on sale now! To book the tickets please contact Coláiste Phobal Ros Cré on 0505 23939.
You will get the ultimate experience by joining the graduating class of William Ocean High School as they live through their final Senior year, as they experience the fun, the heartbreak, the love and loneliness of growing up.
That's right dudes you are about to go on a journey of a lifetime so grab you tickets and join us.
By Rachel O'Brien and Katie Scully
Transition Year.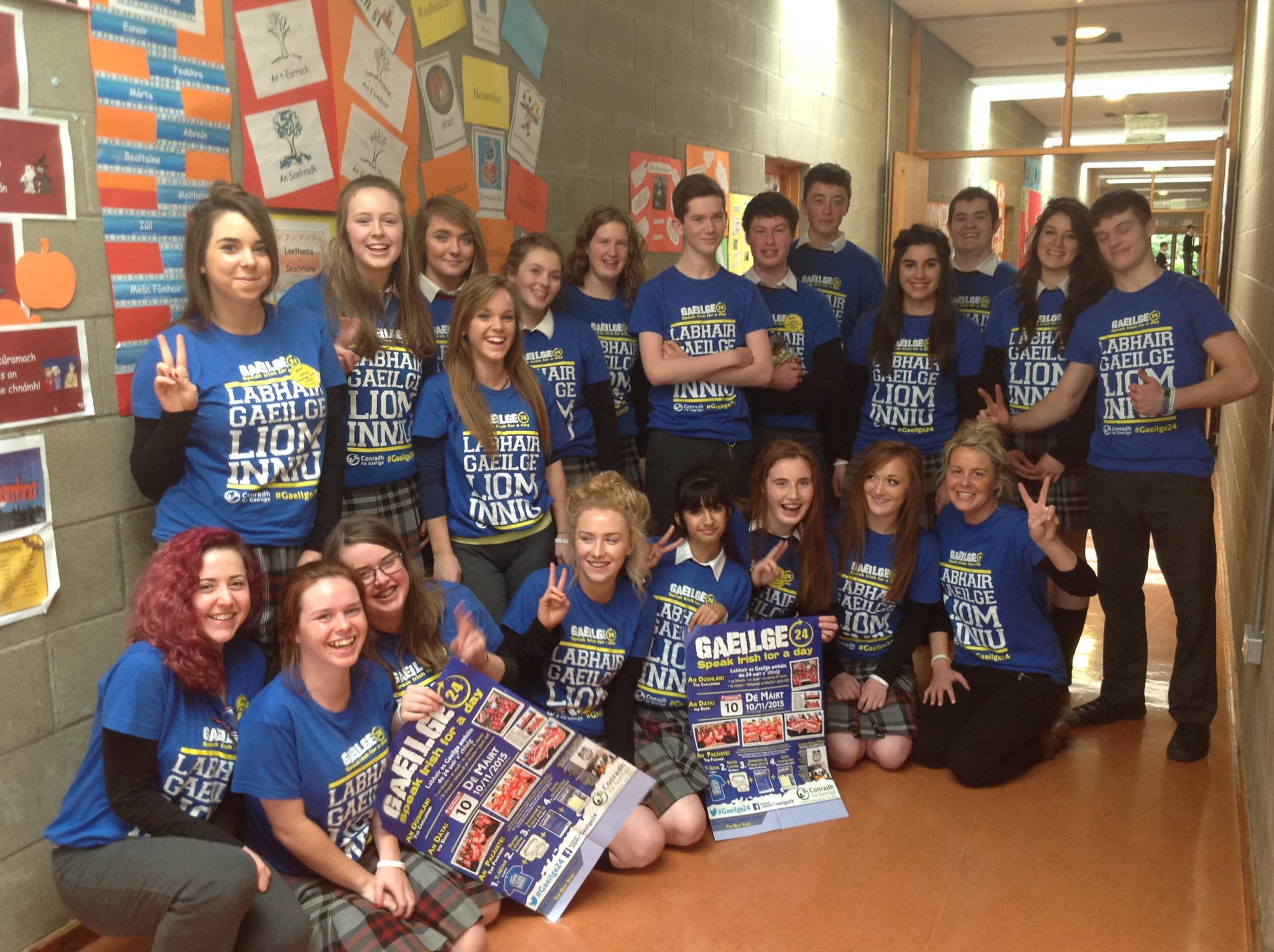 Coláiste Phobal Ros Cré's Miss Hassett's 5th Year Irish class
Gaeilge24 Challenge Gets Coláiste Phobal Students speaking Irish
Fifth Year students from Coláiste Phobal, Ros Cré were among the 25,000 plus pupils in more than 200 schools across Ireland who took part in the Gaeilge24 challenge run by Conradh na Gaeilge. Students raised money for the promotion of the language with various activities involving the entire school community taking place.
The aim of the challenge was to inspire young people to speak Irish for 24 hours, wherever they are and whatever they are doing; at school, at home, in shops and with local businesses, with their friends, families and teachers.
Speaking a language breathes life into it and this message was definitely evident on the day – Beatha teanga í a labhairt!!!