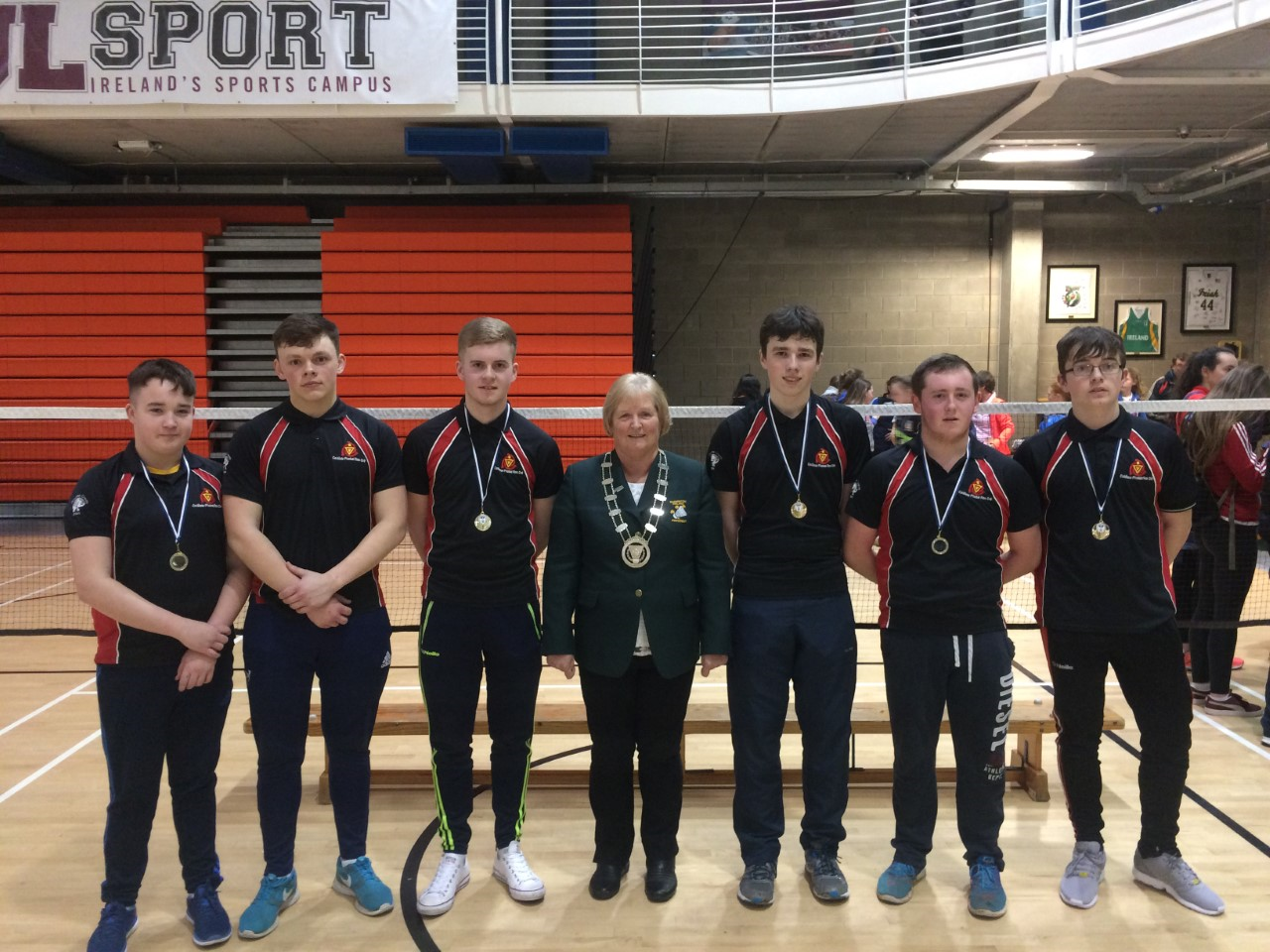 The victorious Coláiste Phobal Ros Cré team, Aaron Loughnane, Padraic Marks, Aaron Moloney, William Cummins, Jack Finnegan and Roddy Teehan receiving their Munster medals from the Chairperson of the Munster Board.
Coláiste Phobal Ros Cré Win Munster Badminton Championship 
On 26th January the Munster Schools Badminton finals took place in University of Limerick. Coláiste Phobal Ros Cré had one U19 team involved which consisted of William Cummins, Jack Finnegan, Aaron Moloney and Padraic Marks with subs Roddy Teehan and Aaron Loughnane.
This year the competition was not round robin but a second chance knock-out system with five teams involved, Limerick being the exception. Waterford had a bye in the first round with Cork v Kerry and Clare v Tipperary, Cork and Kerry drew and an under par performance saw the Coláiste go down 4-2 to a strong Clare team from Killaloe. This left the Coláiste in the position of being worst loser from round one which lined up Waterford for round two. A loss to Waterford would mean an early exit from the competition but a win would give a place in the Semi-Final. With this in mind and the disappointment of the earlier performance no mistake was made and Waterford were dispatched 6-0 thus setting up a Semi-final with Kanturk from Cork.
William Cummins was first up against Kanturk making no mistake with a 30-12 win, next on court was Jack Finnegan again claiming a win with another healthy score of 30-21. The next two games however were a role reversal with Kanturk taking both albeit on tight score lines. With the match poised at 2-2 starting both doubles it was all to play for but like in the past doubles proved strongest winning both convincingly to secure a 4-2 victory and a place in the final against earlier conquerors Clare.
Again William Cummins was first on court and got the Coláiste off to a good start with a win. Jack Finnegan was next with a score to settle from earlier in the day when he was beaten 30-29 by Clare's number two. Jack dug deep, showed impressive work rate and determination in an exciting entertaining match to win by the narrowest of margins turning over the result from earlier to win 30-29. Now 2-0 up overall things were looking good but the next two games proved less fruitful with Aaron Moloney and Padraic Marks both losing narrowly levelling the game up 2-2 with the doubles to play. Both games started together William and Aaron on one court, Jack and Padraic on the other. Jack and Padraic gave an exhibition to lead 15-10 at the break and take the game 30-21 overall, however Clare had not read the script on the other court leading 15-9 at the change of ends. The Roscrea men knew they had to change tactics and so they did, completely changing their game plan Clare did not know what them. Soon Roscrea were in front and only gave the men from Clare six more points for a stunning 30-21 victory which left the match in no doubt with a 4-2 win for Roscrea.
This was the third season in a row that Coláiste Phobal has won this competition. Congratulations to all the members of the victorious team and their manager Mr Hogan.
Roscrea People of the Year Awards
Congratulations to our U19 All Ireland 2016 Badminton Champions who were honoured for winning the competition at the 'Roscrea People of the Year Awards' in Rackett Hall recently.The members of the team were Andrew Cullen (Captain), William Cummins, Evan Hassett, Jack Finnegan and Cian Cordial. Both staff and students in Coláiste Phobal Ros Cré are very proud of this bunch of young men. They continue to bring honour to our school. Well done to Mr Enda Hogan for all the time, patience and support that he has given to this team and to all the other badminton teams in the school.
First Year students Nicole Brooks, Kyle Dooley and Oisín Moloney were also honoured at the award ceremony in Rackett Hall. They are members of a relay team who won the All Ireland Mixed Relay competition at the National Community Games Finals in 2016. This was a tremendous achievement for the students. All in Coláiste Phobal Ros Cré wish the students the best of luck with all their endeavours in the future.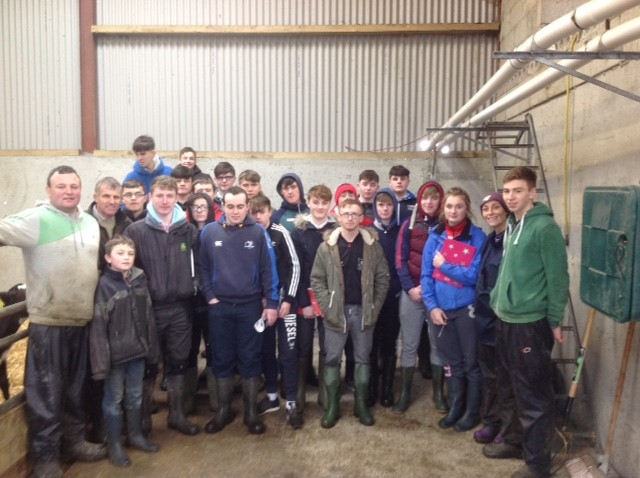 Agricultural Science Trip
As part of their experience of modern agriculture our Fifth Year Agricultural Science class spent a couple of hours on the farm of Joseph and Karen Smyth Cooraclevin, Dunkerrin. This was a most informative visit for the students as they got to see a modern dairy farm in action. Many thanks to Joseph and Karen for making this visit possible.