News from Coláiste Phobal Ros Cré 12-03-2018
Coláiste Phobal Ros Cré Crowned All Ireland Camogie Champions
Everyone in Coláiste Phobal Ros Cré is tremendously proud of our junior camogie team who were crowned All Ireland Camogie Champions on Saturday 10th of March. The Post Primary Junior D Camogie Final between Coláiste Phobal Ros Cré and Clarin College from Athenry, Co Galway took place in Crinkle, Co Offaly. Coláiste Phobal Ros Cré were very convincing winners on the day with a score line of 7-7 to 1-3.
The panel was as follows: Eilish Gleeson, Jane Cleary, Ciara Sammon, Fiona Scully (Captain), Niamh Geraghty, Tiffany O'Riordan, Sharon Shanahan, Reanne Conlon, Kate Hogan,  Kayleigh O'Meara,  Ellie Quinlan,  Jessica Lally, Aisling Ryan, Emily Doughan, Andrea Scully, Teresa Maher, Nicole Brooks, Ella Keeshan, Caoimhe Flannery,  Alanna Cleary, Leah Ryan, Rebecca Murphy, Fionnuala Mulvey, Alice Maher, Kellie Seacy, Orlaith Phelan, Khya Lynch, Kayleigh Bevans, Kelsey Wing.
This victory would not have been possible without the hard work and dedication of Miss O'Gorman, Mr Wilmott, Mary Shanahan, Úna Teehan, Sara Earley and Robbie Bergin.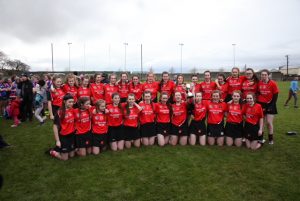 Junk Kouture 2018
All in Coláiste Phobal Ros Cré are very proud of 3 of our Transition Year students who represented the Coláiste in the Regional finals of Junk Kouture 2018. in U.L on Friday the 9th of March.  Their design 'An Lί Ban' originating from an Irish Celtic Water Goddess was made using simply plastic water bottles.
The team of Niamh Geraghty, Tiffany O'Riordan (Model) and Fiona Scully, decided it would be a good idea to use recycled water bottles as it is an everyday recyclable in their school. They felt that plastic is often seen as a negative material in our environment. The aim of their dress 'An Lί Ban' was to show the beauty in the material when recycled correctly.
The girls started in early September brainstorming and constantly adding new ideas to their dress. Water bottles were sourced from bins around the school and community. The girls spent weeks cutting bottles into the shape of flowers and using old spray paint from our art department to give the flowers beautiful colour, stapling and weaving labels together and hot gluing bottle caps.
Their dress looked stunning on Friday night and Tiffany modelled the dress like a pro. Unfortunately, 'Lí Ban' did not qualify for the next round of the competition but the girls did Coláiste Phobal Ros Cré proud.
Niamh, Tiffany and Fiona would like to thank everybody for their support with their design. They believe that it has been the an amazing and rewarding experience and they would recommend it to every school to get involved. The girls would like to thank their teachers Ms Stanley, Ms McDonnell, Ms Saliba, Ms Dempsey, Ms Mulrooney and Mr O'Connor for all their continuous support throughout the project.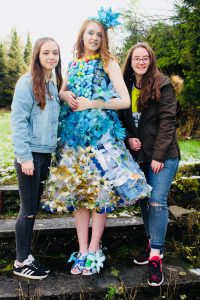 Certified Irish Angus Beef School Competition
Best of luck to five of our transition year students who will represent Coláiste Phobal Ros Cré in the final of the Certified Irish Angus Beef School Competition 2018. The final will take place in Croke Park on Wednesday the 14th of March. This is a fantastic achievement for students, Geoffrey Drought, James Dooley, Craig Lally, Tomás Teehan and Jack Flannery. The students have been working on the project since September and qualified from rounds one and two. This is the second time our school has reached the final stage of the competition and the previous finalists, Roddy Teehan, Jack Bourke, Neil Maher and Jake Delaney have helped with preparing the team. Many thanks to Jake Delaney who has acted as a mentor to the team.