First ever Girls Senior Soccer Team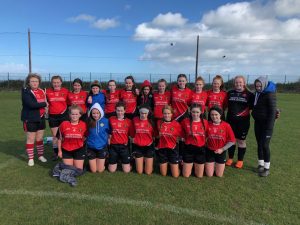 Coláiste Phobal Roscrea v Loreto Bray, Leinster Girls Senior League Quarter Final.
After a long trip to Bray the Coláiste girls started the game brightly taking a one nil lead in the first half from a great finish from Kelsey Wing against a well drilled Loreto side.
With the advantage of the wind in the second half Loreto came back in to the game with a well worked equaliser on the hour mark. Coláiste fought extremely hard for the winner however were unfortunately caught on the counter attack to give Bray the lead.
The game may have finished 3-1 to Bray however the girls from Coláiste have a lot to be proud of considering the commitment they showed throughout the year and being involved in the first Girls soccer team to represent the school.
The future is bright for Coláiste on the soccer field despite losing a number of key 6th Years next year.
Squad included: Orla Kruse, Tara Nolan, Leah Ryan, Niamh Moloney, Katie Shanahan, Lucy Lee, Eilish Gleeson, Kelsey Wing, Nicole Brooks, Shannon McNamara, Khya Lynch, Shauna Daly Morgan, Jane Cleary, Ciara Sammon, Lucy McHugh, Aoife Dillon, Ciara Maher, Aimee Monaghan and Mollie Dooley. Well done to everyone and it augers well for the future.
Coláiste Phobal Concert in Aid of Pieta House
There will be a fundraising concert held in St. Cronan's Church of Ireland Church on Thursday 11th April at 7.30pm in Aid of Pieta House. It will feature the musical talent in Coláiste Phobal from 1st Year right up to 6th Year. It promises to be a great night with lots of music and singing. There will be snippets from our last 3 school musicals including Wizard of Oz, Beauty and the Beast and Thank You for the Music. There will also be some Traditional Music items, modern songs, classical piano and much more. This is a concert not to be missed and we look forward to raising much needed funds for Pieta House.
Guest Speaker
On Monday April 1st, Peter Ryan from Upperchurch Drombane will visit the school to talk to some of our students. Many have already heard Peter's story. He was diagnosed with Leber's Hereditary Optic Neuropathy, a rare genetic condition that struck without warning when he was 19, his vision was reduced by 80 per cent, most of that peripheral.
Up to this point, Peter was leading a very normal life making great strides as a Tipperary Minor Hurler, amongst other things. Now aged 28, he delivers his story with a raw honesty of how life has changed for him and how from the depths of despair he gathered himself to now be a very successful tandem cyclist representing Ireland at the Olympics. His story is compelling and we are very fortunate to have been able to get Peter to visit us with his hectic training schedule. He will speak to pupils from 1st Year to TY. Peter will also meet with some of our pupils with Visual Impairments and their parents, throughout the day.
Exams
This week we had Practical exams for Leaving Cert Music. We also had Oral Irish Leaving Cert Exams all week.