Tipperary Champions in Senior Football
Well done to our Senior Football team who won the Tipperary County Championship on Tuesday 28th beating Carrick-on-Suir CBS. This is a great achievement for the School and well done to the players and management on a great win.
Girls Basketball
On Tuesday 28th our 1st and 2nd year Girls Basketball team travelled to play Coláiste Mhuire, Thurles. This was their first game of the season. It was a very close game but in the final quarter our girls got a few crucial baskets and won by 4 points in the end. Well done to all the girls for a great effort and win and well done to the management also.
TY Musical Trip
On Tuesday 28th January our TY students attended the Kilcormac Secondary School Musical of 'Grease' performed by their TY students. This was a great show and our thanks to the staff and students in Kilcormac for their warm welcome and hospitality. Well done to Kathryn Browne and her colleagues whose hard work made for a most enjoyable matinee performance.
1st Year Girls Soccer
On Wednesday 29th January our First Year Girls Soccer panel played against Loretto Bray. It was played at our home venue of Killavilla. The final score was 9-0 in favour of Coláiste. Well done to the girls and management and best wishes in their upcoming games.
School Activities
This week saw the LCVP recorded interviews after school. Thanks to the teachers for their time and efforts with all our senior students.
Ag Science Farm Visit
On Thursday 30th January our 6th Year Ag Science class had a farm visit to Ger Brickley's farm in Coolrain. This was a great learning experience for all the students involved. Our thanks to Ger for facilitating this trip and Mr Smyth for organising it.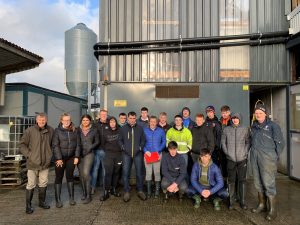 Certified Irish Angus Beef Competition
Well done to the TY students who took part in the Aberdeen Angus competition in the South Court Hotel in Limerick recently.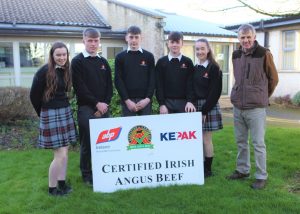 County B Football Final – Coláiste Phobal Roscrea 3-10 v 3-7 Carrick an Suir CBS         28/01/20
Carrick got off to a quick start scoring 3 points without reply but Coláiste settled with an excellent score from Dylan Hogan. Carrick stayed on top for the first half with some quality scores and excellent teamwork. They got 2 goals in quick succession to take a 7-point lead not long before half time, Coláiste started to come into the game and were held out by the crossbar and some great goal-keeping keeping Carrick in the lead. Coláiste were rewarded for their consistent pressure at the end of the first half converting well taken points reducing Carrick's lead to 5-points and a half time score of 2-4 to 0-5. First half scorers include: Dylan Hogan, Kenny Lee (2 points) and DJ McLoughlin (2 points)
Coláiste started the second half the way the finished the first. Their dominance began to pay off when Aaron Delahunty scored a great goal from some super team play which set them off on their comeback. Two more goals followed from DJ McLoughlin and Kenny Lee gave them a 6-point lead with not long to go. Carrick were not out yet though scoring a goal from a free kick which narrowed Colaiste's lead. But some great composure from Coláiste saw them hold out and some crucial points Conor Donovan, Killian Sampson and Luke Seacy sealed the game for Coláiste. A well-deserved win for Coláiste after narrowly losing 3 weeks previously in Munster. Huge credit must be given to the entire Coláiste squad for their commitment throughout the year, each player can be proud of what they achieved especially the performance they showed in the second half of the County Final when their backs were against the wall against a very strong organized Carrick team. Final Score 3-10 to 3-7
Joe Brooks 2. Lee Doran 3. Nathan Carroll 4. Kevin Moore 5. Dayle Collins 6. Conor Shanahan 7. Dara Maher 8. Killian Sampson (0-01) 9. Kenny lee (1-03) 10. Conor Donovan (0-01) 11. Luke Seacy (c) (0-01) 12. Dylan Hogan (0-03) 13. Aaron Delahanty (1-00) 14. DJ McLoughlin )1-01) 15. Jamie Ryan
Subs: Dominik Mroczek, John Donovan, Shane Whyte, Jamie Conlon, Adam Wallace, Dan Murphy, Paddy Sheeran, Cameron Fairbrother, Josh Moloney, Nathan Cummins, Conor Dooley, Shane Treacy