Standing Ovation for U.L. Lunchtime Concert
Well done to our fantastic musicians, singers and dancers who put on a brilliant performance at a lunch-time concert at the University of Limerick on Wednesday 5th February. They deservedly got a standing ovation for their efforts. They included students from 1st to 6th year and the wealth of talent in Coláiste is wonderful to see. The varied performance included the Traditional music group, modern songs sung acapella with harmonies, Irish dancing, songs from Musicals and Irish folk songs with solos and group items throughout. All 32 students were a credit to the school and they will certainly remember the experience for years to come. Thanks to Darragh Carey-Kennedy for the invitation to perform and liasing with Professor Jean Downey at the Irish World Academy of Music and Dance. Thanks also to the teachers for preparing the students, Mr Maher, Ms Gothard, Ms Larkin and Ms Mullen.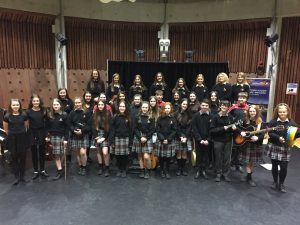 Front Row L-R: Kate Shortt, Emma Phelan, Alison Crofton, Saoirse Brogan, Samantha O Toole, Dayna Quinlan, Leanne Doherty, Lauren Grimes, Keira Edwards, Ryan Whelan, Naomi Simplicio, Ruby Mitchell, Teresa Maher
Second Row L-R: Aileen Gleeson, Sarah Gilmartin, Chloe Walsh, Elyse Hearns, Grace Mulrooney, Sarah O Toole, Kian Tynan, Orla Phelan, Caoimhe Flannery, Loredana Panico, Cormac Murray
Back Row L-R: Áine Gleeson, Kelly Feehan, Melissa Rossiter, Nadia Fletcher, Jade Quinlan, Eve Du Berry, Lucy McHugh, Caoimhe Tuohy
School Activities
On Wednesday 5th and  Thursday 6th we had LCA task examinations, for Craft and Design and Contemporary issues.
Under 17 Hurling
Well done to our Under 17 hurlers who won the first round of the Under 17 competition recently against Coláiste Mhuire Thurles. Best of luck lads in the next round.
Mock Exams
Best wishes to all our 3rd and 6th years students sitting their Mock exams at the moment.