Coláiste Phobal Ros Cré Win A.I.B Entrepreneur Award.
Congratulations to Eimhin Ward and Tadgh Nash transition year students in Cloáiste Phobal Ros Cré, who won the A.I.B. Entrepreneurial Award in the senior category of the Tipperary Student Enterprise Awards which were held on March 10th in L.I.T. Thurles. They represented the school with their business 'Palletable Designs'.
Well done also to the team members from 'Mini Pocca'. Isabelle Coonan, Marion Doheny, Simona Staponkute and Libby Quinlan who represented Coláiste Phobal Ros Cré also but were unlucky not to be amongst the prize winners on the day. Well done to all involved.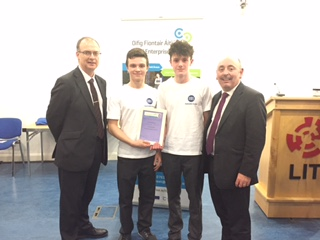 Tadhg Nash and Éimhin Ward accepting their award for their project 'Palletable Designs'
Colaiste Phobal Fund Raises in Style!!
Coláiste Phobal Roscrea presented a Fashion Extravagaza in the Racket Hall, Roscrea on Thursday 16th March. The event, organised by the Parents' Association involved teachers and pupils from the school as well as some guest models.  Clothing suppliers included Mens and Ladieswear as well as Millinery, shoes and accessories.  Local shops featured on the catwalk included Alison Roe Millinery, Culture Clothing, Glitzi Bitz, Lifestyle Sports and a huge range of clothing from Shaws. From Birr we saw fashion from Jerros Boutique, Michelle's Boutique and from the Stables Emporium.  Galvins of Tullamore and Jim McLoughneys of Nenagh dressed the male models in a range of fabulous fashion outfits.
The lighting, music, changing marquees, posters and tickets were provided by Colm Wright who is the director of Blueclay Event Management and who has 2 children attending the school.   Photography on the night was superbly captured by Monty Franks who is the caretaker at the school.
Master of Ceremonies for the show was Mark McLoughlin, the Principal of Scoil Eoin Naofa, one of the feeder schools for Coláiste Phobal. Two of Mark's children also attend Coláiste Phobal.
The event was organised to raise funds for the school field development.  The current CBS field requires significant attention in order to make it suitable as a sports field for the school. The funds raised at the Fashion Show will go directly to this development.
The school kindly acknowledges the complimentary services of Colm Wright of Blueclay Event Management and Daniel McCarthy who manages the Racket Hall Country House hotel.  We would also like to express our gratitude to the exhibiting suppliers who provided their clothes and their time totally free of charge and who each donated a substantial spot prize in the raffle.
Helen Murray- Event Coordinator