Camogie Sponsorship
The Coláiste Phobal Ros Cré Senior Camogie team and management would like to sincerely thank Camross Camogie Club for their recent sponsorship. It is so much appreciated, and we are very grateful for their kind generosity.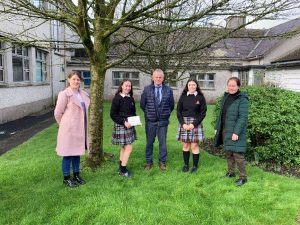 Pictured L-R: Ms. O Gorman, Andrea Scully (on behalf of Camross Camogie Club), Mr. Flynn, Caoimhe Flannery, Ms. Hynes
The Coláiste Phobal Ros Cré Senior Camogie team and management would like to sincerely thank Joe Fitzpatrick of 'Fitzpatrick Travel Roscrea' for their recent sponsorship. It is so much appreciated, and we are very grateful for their kind generosity.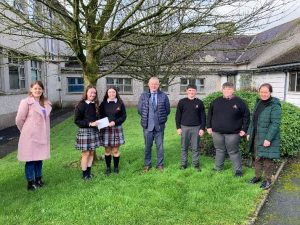 Pictured L-R: Ms. O Gorman, Andrea Scully, Caoimhe Flannery, Mr. Flynn, Michael Loughnane, Sean Fitzpatrick (on behalf of Joe Fitzpatrick Travel) Ms. Hynes
Ethos Leadership Team
Ms. Mullen, Ms. O'Gorman, Ms. Loughnane and Ms. McMahon are all working on the Ethos Leadership team as part of Tipperary ETB. The logo represents the 5 core values that will be implemented in all school policies going forward.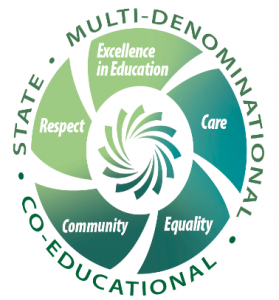 Provision Mapping Project
The Provision Mapping Project, that was developed initially by Limerick and Clare ETB in conjunction with Mary Immaculate College, is now being implemented across the ETB sector nationally. Coláiste Phobal has been selected as a pilot school for this in TETB. We are delighted that our school has been chosen in the pilot initiative.
The Provision Mapping project supports us as staff to analyse the ever changing dynamics of learners in our classrooms and overhaul our systems to firstly ensure we are equipped and supported in our teaching and secondly that we have the facilities and skills to meet the needs of our pupils.
Senior Girls Soccer Blitz Day
On Thursday 27th January, Coláiste Phobal Ros Cré hosted a blitz in order to facilitate a number of league games being played. We welcomed three schools for the blitz; St. Brendan's CS Birr, Scoil Chríost Rí Portlaoise and Coláiste na Sionna Banagher.
Our first game got underway at 11am with St. Brendan's Community School, Birr as our opponents. We hit the ground running in this game and thanks to two well-taken early goals, from Khya Lynch and Kelsey Wing, we put ourselves in a commanding position. We followed this with a further two goals, from Ceola Bergin and Kelsey Wing again, before the half-time whistle to leave us leading 4-0 at the break. In the second half our opponents found their feet and adopted a more defensive approach and made themselves very difficult to break down. Credit must go to St. Brendan's goal-keeper who made some excellent saves, especially in the second half. However, our girls worked hard and kept the ball moving until an opportunity fell to Jessica Kelly, who calmly slotted the ball in the back of the net. Final score 5-0 win for CPR.
Our second game saw us face Coláiste na Sionna Banagher. The intensity of this game was higher, and it was clear the girls were not going to have it all their own way. We created several early chances but could not hit the target. As we settled into the game and got our passing game going, we started to assert our dominance, maintaining possession for long periods. Our pressure on the Banagher goal was relentless, and despite creating multiple gilt-edge chances we could not hit the net. We had efforts hit the post, the crossbar and multiple saves by the goalkeeper. Despite our dominance, we could easily have conceded, and just before the break following a well-struck free kick, but a combination of Ellie Feehan and Mollie Dooley dealt with the danger. All in attendance were beginning to think the game was destined for a scoreless draw. Half Time 0-0. The girls attacked the second half with conviction, and we broke the deadlock quickly. A stunning strike from Ceola Bergin hit the underside of the crossbar and then the back of the net. This gave the girls just the boost they needed, and Kelsey Wing followed up with another goal soon after. Not to be outdone on the goal scoring front, Ceola bagged two more goals to complete a second half hat-trick. Final Score 4-0 win for CPR.
Although the plaudits often go to the goal scorers, they would not have the freedom to attack without the hard work, assistance, and creativity of the players around them. Notable mentions to Abi Vozza and Nicole Brooks who were dominant in the middle of the pitch and Lucy Lee and Khya Lynch on the wings. Leanne Doherty, Ellie Feehan, Aoife Dillon and Sheoladh Cunningham Dynan were rock solid in defence all day and dealt with all danger coolly and calmly. This meant that Mollie Dooley had a relatively quiet day in goals, with very few shots to save. The substitutes who came on at various stages, often playing out of their preferred position, played a vital role on the day. Jessica Kelly, Laura Hogan, Ella Carey, Grace Mulrooney, Kayleigh Guidera and Caragh Harnett all did themselves and the school proud.
Finally, a word of thanks to Killavilla AFC for the use of their fantastic facilities for the day.
Schools Golf
The second school golf competition of the year took place on Thursday 27th January in Roscrea Golf Club. Yet again we were blessed with the weather and the course itself was in superb shape. Well done to all the students who participated and many thanks to Roscrea Golf Club for accommodating the students from Coláiste Phobal. Juvenile membership of Roscrea Golf Club for one year is €80 and is open to any student who would like to take up golf.
Senior Winners
1st Leigh Loughnane 35 pts
2nd Kevin McCormack 28 pts
3rd Lee Doran 26 pts
Junior Winners
1st Jack Moloney 28 pts
2nd Jayden Loughnane 24pts
3rd Sam Dooley 20 pts
Plans in the Pipeline
Plans are being put in place for many activities in Coláiste over the coming weeks including Webwise Friendship Week, Hope week, a promotion video involving past pupils of Coláiste, an online talent competition, a flag ceremony and many more initiatives! Well done to all staff and students involved.