All-Ireland Finalists
Huge Congrats to our Senior Camogie Girls who reached the All-Ireland final after overcoming St Killian's of Antrim in the semi-final played in Moneygall on Saturday 5th February in terrible weather conditions. Coláiste were up 1.06 to 0.01 at half time having played with the aid of the wind. St Killian's clawed back that lead in the second half to come within 2 points. Coláiste managed to get another point from play near the end with the score finishing 1.07 to 0.09. The girls will now meet St Killian's of Galway in the Final which is due to be played on Saturday 19th February. We wish the panel and management all the very best and with any luck they will bring the All Ireland Cup to Coláiste which would be more than deserved given the commitment and dedication the panel of players and management have shown not just this year but over the last few years.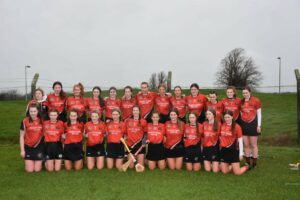 Sponsorship
Many thanks to Roscrea Camogie club for giving Sponsorship to Coláiste Phobal Senior Camogie Panel and management. This is much appreciated as they prepare for their upcoming all Ireland Final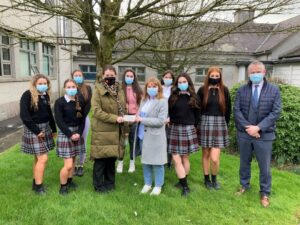 Pictured L-R: Front Row: Jessica Kelly, Mollie Dooley, Ms. O Gorman (Coach) Clare Dooley (on behalf of Roscrea Camogie club) Kelsey Wing, Aoife Hogan and Mr. Flynn (Deputy Principal)
Back Row L-R: Laura Hogan, Molly Loughnane and Áine Dooley
Webwise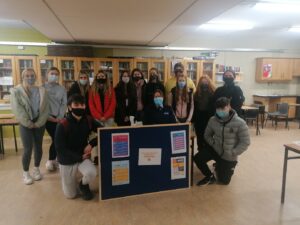 Our WebWise team with Garda Kay Gaynor who came in to visit us and offer her advice and guidance on Safer Internet Day
Friendship Week
Our students enjoyed our Friendship Week Photobooth on Safer Internet Day. Lots of posing took place!!! Brilliant TY Teamwork and leadership on display!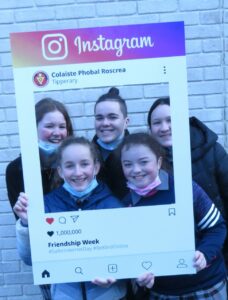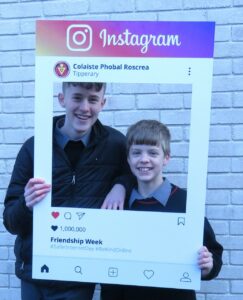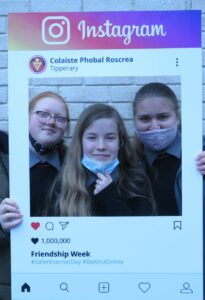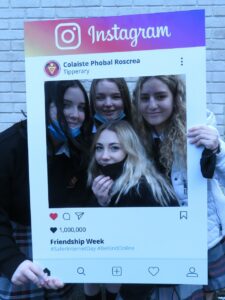 Jujitsu
Congrats to Ciarán Keeshan 3rd year who got Silver in the Jujitsu grapple kings sub only adult division representing Premier Martial Arts Academy Roscrea last weekend. The open event took place in Cistercian College Roscrea and on Saturday 12th February and he will be taking part in an event in Derry on Saturday 12th February also. Best of luck Ciaran for all future events.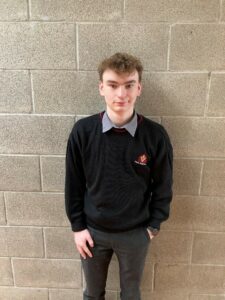 Athletics
Aaron Dunford 3rd year won the 200m race in Nenagh on Saturday 5th February at the Munster Athletic Championships. This is a great achievement and best wishes for future Athletic meets. Aaron is representing Templemore Athletic Club.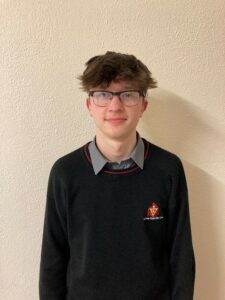 Soccer
Congrats to Brody Lee 1st year who has just signed for Shamrock Rovers Soccer club playing under 14. We all wish him the very best going forward.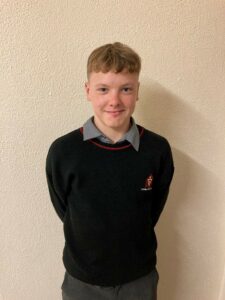 U15 Girls soccer
Our girls continued their league campaign on Tuesday 8th of February with another home game, played in Moneygall FC. The opponents for the day were Coláiste Eoin, Hacketstown. Following a delayed start the game got under way at 12pm. In the challenging conditions our girls got an early goal but found it difficult to get their intensity levels up. Our opponents put up a strong challenge in the opening stages and were resolute in defence. The girls creating several chances but could not find the back of the net. This game was in sharp contrast to our previous game, where we hit the ground running with several early goals. The girls stuck at it though and continued to pass the ball around and got another goal before half time. Half-time 2-0 lead for CPR.
The girls upped the intensity in the second half, and they began to assert their dominance. Once we got on top, the goals started to flow and this allowed us to make several changes. All the girls performed very well and are creating stiff competition for both starting positions and places in the squad. Final score 8-0 win for Coláiste Phobal.  Team and Scorers: Ella Mulrooney, Lucy Hogan, Sheoladh Cunningham Dynan, Róisín Maher, Kayla Dooley, Kiera Fletcher(1), Ella Carey(2), Amber De Lewis, Lily Ann O'Meara(1), Amy Carson Hogan (2) and Alysha McNamee. Subs: Leah Harney (1)Emily Whyte, Mya Steele(1), Tierna Conlon McLoughlin, Yana Maksimovich, Ava Doran.
Following the poor weather, a special word of thanks to Moneygall FC for the use of their facilities for the game. The support of all local clubs is very much appreciated by the school.
Badminton
Well done to the school Badminton Club over the past week.
U14/U16/U19 Girls competed in the county championships on Monday 7th February in Presentation Thurles. U14 girls won their games against Carrick-on-Suir 6-0 but lost out to the eventual winners Presentation Thurles 4-2. U16 girls beat Ursuline 5-1 but also lost out to Presentation 4-2.
U19 Boys reached the final of their division beating Our Ladies and Borrisokane, while the boys drew 3-3 in the final, they were extremely unfortunate to lose out by a single ace on the final count.
U14 Boys beat Our Ladies 4-2, Thurles CBS 6-0 and Borrisokane in the final 6-0 to win their division. The boys will be representing their county in the Munster Championship on 7th of March in UL. This is a great achievement for the boys who will still be eligible to play U14 again next year and will have the opportunity to defend their championship.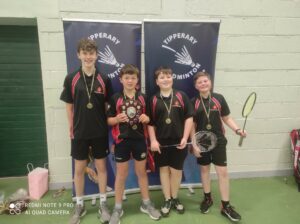 Pictured L-R: U14 Boys – Tipperary Champions – L->R Killian Fitzpatrick, Darragh Phelan (C), Jack O'Connor, James Kelly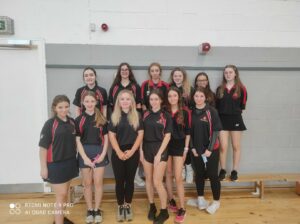 U14 Girls – Abi Marks, Ciara Crofton, Keira Fletcher, Olivia Foot
U16 Girls- Abi Vozza, Alisson Crofton, Tierna Conlon, Abi Loughnane
U19 Girls – Orlagh Phelan, Lucy Lee, Jessica Kelly, Jessica Earley
Ag Science Farm Visit
On Monday 7th February our 6th year Ag Science class got to go on a farm visit to the Dairy farm of Joe Maher, Ballybrack. On arrival Joe himself a former student of Coláiste Phobal met us and brought us on a tour of the farm yard explaining the workings of a Dairy Farm as we went. The highlight for the students was seeing the rotary parlour in action and also the new born calves. Many thanks to Joe Maher for sharing his expertise with us and for making the visit possible. Thanks to Mr. O Brien for his help to Mr. Smyth with the visit.