Students on the Offaly All Ireland winning team
Congrats to Orlagh Phelan 5th year (Offaly Captain), Ciara Maher TY and Nicola Cleary 3rd year who are on the Offaly minor Camogie team that won the All Ireland Camogie Minor B title against Laois. This is a great achievement for the girls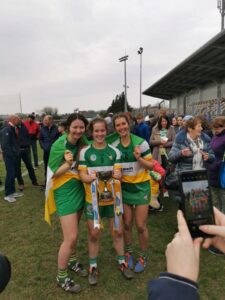 Orlagh Phelan 5th year (Offaly Captain), Ciara Maher TY and Nicola Cleary 3rd Year after winning the All Ireland title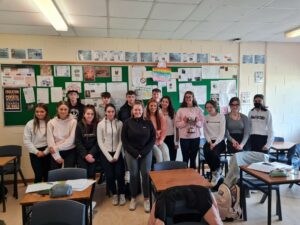 Orlagh Phelan 5th year (Offaly Captain) with her 5th year classmates.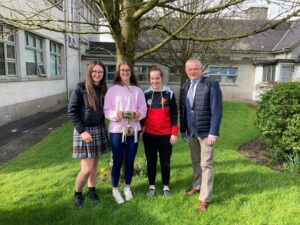 Orlagh Phelan 5th year (Offaly Captain), Ciara Maher TY and Nicola Cleary 3rd year with Acting Principal Mr. Flynn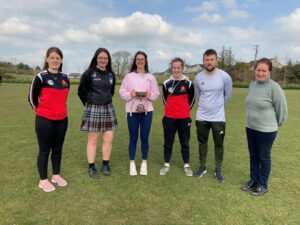 Orlagh Phelan 5th Year (Offaly Captain), Ciara Maher Transition Year and Nicola Cleary 3rd Year pictured with Ms. O Gorman, Mr. McCormack and Ms. Hynes, the Senior Camogie management team of Coláiste Phobal.
Slieve Bloom Hike
On Monday 21st March our Ty's went on a hike of the Slieve Bloom Mountains. They hiked 15klm and we were delighted to have 3 guides from the Slieve Bloom walking group who gave excellent guidance and history along the way. It was thoroughly enjoyed by all the students and thanks to all the teachers who accompanied the students on the hike.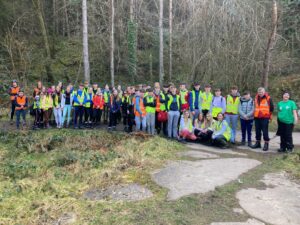 School Golf
A great day was had by Coláiste Phobal students on Thursday 24th March in Roscrea Golf Club. Again sincere thank you to the Club for allowing our student members avail of the wonderful facility.
Senior Winner – Jamie Ryan
Junior Winner – Jack Moloney
Best Newcomer – Conor Murphy
Well done to all students who played and thanks to Ms. Egan for organising the day.