U15 GIRLS SOCCER
On Monday 16th our u15 girls made the long trip up to Maynooth for the league semi final against Maynooth PP. Our girls travelled with a chip on their shoulder as it was the same opposition that knocked out our senior team in recent weeks at the Semi-Final stage.
Our girls started very quickly and showed no sign of tiredness after the long journey. It took only 3 minutes for us to break the deadlock with a calmly slotted finish from Lily Ann O'Meara from the right side of the penalty box.
Only two minutes later the ball broke to Ella Carey about 30 yards from goal and it didn't take too much encouragement for her to take on the shot. This strike can only be described as a screamer! It consisted of power and precision in equal measure and dipped just under the crossbar into the top corner. This put us 2-0 up and in control of the game.
At the game developed Maynooth established a foothold and they began to play some good football. Two crucial saves from Ella Mulrooney kept us ahead but Maynooth did pull a goal back before half time when a strike from distance found the net.
Our girls composed themselves at the break and hit the ground running at the start of the second half, with Lily Ann finding the net again after a lovely through ball from Ella Carey, who was proving an effective make shift centre-back.
With the wind at our backs, we continued to pressure the Maynooth goal and had a few chances to put the result to bed, but in credit to Maynooth they continued to battle and scored a late breakaway goal to make the final few minutes nervous ones. However, our girls battled fiercely to the very end and got the win they deserved. We now progress to the final in the next week with our opponents still to be confirmed. Keep an eye on our social networks for updates on our opponents and match details.
The squad on the day was: Ella Mulrooney, Kayla Dooley, Sheoladh Cunningham-Dynan, Róisín Maher, Mya Steele, Ella Carey, Amy Carson-Hogan, Amber De Lewis, Kayla Carney, Lily Ann O'Meara, Leah Harney, Sinead Gleeson, Kiera Fletcher, Tierna Conlon, Emily Whyte, Fiona Gleeson, Lucy Hogan, Ally Gleeson, Yana Maksimovich, Hayley Moore, Alicia Murphy, Marie Shanahan.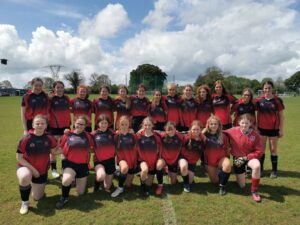 SCHOOL BOYS EAST MUNSTER ATHLETICS CHAMPIONSHIPS.
It was a return to the track in Templemore for the boys of Coláiste Phobal Ros Cré on Wednesday May 12th for the East Munster Championships. Aaron Dunford had a splendid day out, when he won the double in the Intermediate boys 100m and 200m. This was a fine achievement as there was little time for him to recover between heats and finals in both events. The 200m was up first, and after winning his heat, Aaron was reasonably confident heading into the final. He had a good run here and with a time of 24.46 he comfortably brought home the gold medal. After a short break, the heats of the 100m took place and again Aaron crossed the line in 1st place. Hoping that he had enough left in the legs, Aaron lined up for the final. Once again he had a comprehensive victory in a time of 11.73 to finish in 1st place. Aaron now goes forward to the Munster finals in Templemore on May 21st.
Michael Fitzgerald and Graham Dooley also competed well in the senior boys long jump. The friendly rivalry between this pair, brings out the best in both of them. Unfortunately they both narrowly missed out on the medals, with Michael finishing 4th with a best jump of 5.45m and Graham in 5th place with his jump of 5.31m.
Janus van der Merve came 4th in the senior shot putt. His best throw of 8.00m is testament to his potential in this event as he has only recently taken up the sport. Likewise for Damian Tomkow, who is new to the sport, his throw of 6.21 in the junior shot, indicates that with further training, he can be a future medal contender in this event.
Liam O Reilly ran in the senior boys 1500m and Killian Curtis in the inter boys 100m. Both of these athletes will compete in the same age group next year, so hopefully will continue to train and improve their performances.
Well done to all the athletes and the very best of luck to Aaron Dunford in the Munster finals.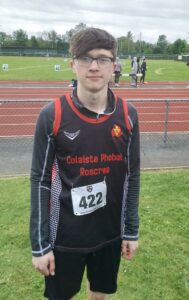 Aaron Dunford after his double victory in the Inter 100m and 200m at the East Munster Schools Championships
ETBI CORE VALUES POSTER COMPETITION
Below are the 1st, 2nd and 3rd prize winners in our recent poster competition with First years in Religion class in relation to the ETBI Ethos Core Values of the school.
The ETBI Core Values are Equality, Care, Respect, Community and Excellence in Education
Winners were as follows:
1st Prize: A. McAndrew
2nd Prize: A. Sulek
3rd Prize: A. van der Merwe
Well done to all involved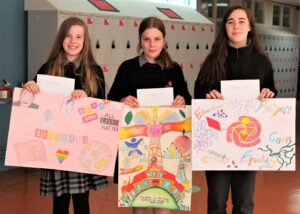 School Awards Ceremony
This week saw the return of our annual awards ceremony in Coláiste. We were delighted to be able to mark this important event in our school calendar this year as it has not occurred since pre-pandemic times. A variety of students across our school were recognised for their achievements both in and outside of the classroom with subject achievement, academic skills, sporting, dancing and other extra-curricular activities all being acknowledged. Our fantastic sports teams were recognised alongside students of the year, full attenders and competitors in IT competitions. We were honoured to have Ann Guinan of our Board of Management present in school to both present the awards and to address our school population. Congratulations to all of our worthy winners and a special word of thanks to Mr. MacMahon and all involved in making the awards come to fruition.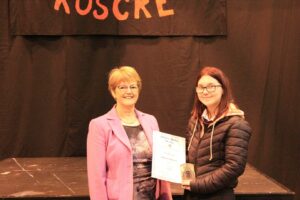 The Leaving Cert Applied Student of the Year, Mia Delaney-Fletcher.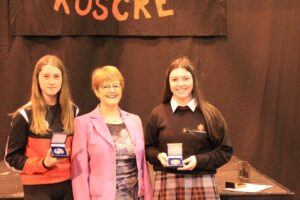 The Tipperary Education & Training Board (TETB) Core Values Award recognises students who exemplify TETB's core values of Excellence in Education, Respect, Care, Equality and Community.  There were two recipients of this award, Caoimhe Flannery was awarded the Senior award while Alison Crofton was awarded the Junior award.
School Talent Show
We held our school talent show in school this week. Over the last few weeks students from across the school were encouraged to film themselves performing their particular talent and to send their entries in for consideration. A wide variety of talents were displayed and our entire school population got the opportunity to watch and to vote for the various acts. We had modern dancers, solo singers, a pianist, a band and even an archery display. All in all it was a very enjoyable event and we would like to thank Mr Maher, Mr Haugh, Ms O'Donoghue and all of the teachers for their help in running the show and administering the voting system. When all the acts were finished and the votes were tallied, we were left with three winning entries. In third place was Armand Odor for his interesting demonstration of Hungarian Horseback Archery, in second place we had Grace Mulrooney for her piano playing and finally, in first place, we had our third year band 'Just Because', which consisted of band members Dayna Quinlan, Darragh Brophy, Ciaran Keeshan and Noah Walsh-Shovelar whose rendition of Zombie by the Cranberries delighted and impressed us in equal measure. Congratulations to all of our winners and well done to all the acts who participated and made the event so enjoyable.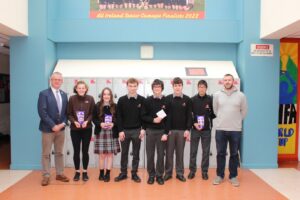 Pictured are Mr. Flynn (Acting Principal), Grace Mulrooney, Dayna Quinlan, Noah Walsh-Shovelar, Darragh Brophy, Armand Odor and Mr. Maher (Director of Music)
Retirement
Congratulations to our former colleague Sorcha McEvoy on her retirement, which was marked at the Tipperary Education and Training Board Retirement dinner in the Anner Hotel recently.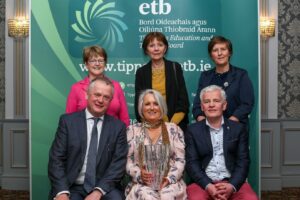 Pictured are Ann Guinan Chairperson of the BOM, Cáit Leyne, Ciara Ormond, Jack Flynn, Sorcha McEvoy and Liam Courtney.