Munster Schools Athletic Championships.
The Munster Schools Athletics Championships were held in Templemore AC on Sat. 21st May. Aaron Dunford competed in the Intermediate finals in both the 200m and 100m.In the 200m he got off to a flying start, maintained his composure throughout and finished in 4th place. A great achievement as Aaron will compete in this age group again next year. He had another good run in the 100m. His sister, Alannah, then raced in the senior girls 100m. She too will compete in this age group next year, so it was great to see that she was very pleased with her time. Lily-Anne O Meara was next onto the track for the minor 75m hurdles. Despite this  being run in a very fast time, there was an extremely tight finish. The girls were left to wait patiently while the the officials checked the screen to decide the outcome. Unfortunately the decision did not go Lily-Anne's way, and by the narrowest of margins, she finished in 4th place.
Undeterred by finishing outside the medals, Lily-Anne lined up for the minor long jump soon afterwards. After 3 good jumps, she qualified for a further 2 jumps. And then, with an almighty 4th jump of 4.80m, Lily-Anne brought home the gold medal. A personal best and a  wonderful feat, which sees her through to the All Ireland finals on June 4th in Tullamore. In the meantime, our only field athlete was busy taking part in the minor girls shot putt. Marie Shanahan had a good initial 3 throws, which qualified her for the additional 2 throws. She held her nerve, and achieved a PB with a throw of 8.45m on both her 3rd and 5th throws. In the final round up, Marie finished in 5th place. It is fantastic to see her attain a PB on the occasion of a Munster Final. Well done to all the athletes and the very best of luck to Lily-Anne in the All Ireland.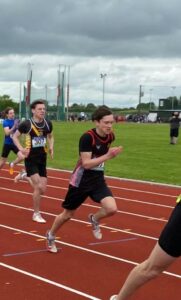 Aaron Dunford giving his all on the track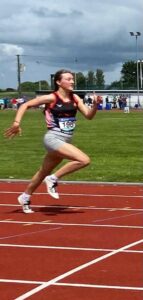 Alannah Dunford putting in an impressive performance on the track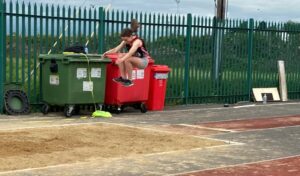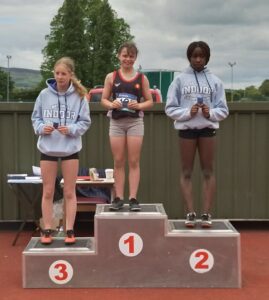 Lily-Anne flying high                                      Lily-Anne O'Meara on the Podium
Staff Cycle to Work
The annual staff cycle to work took place this week from Dunkerrin to our school.  The cycle this year was in memory of  our colleague Mick O'Shea. There was a collection in the staffroom for Tullamore Palliative Care who made it possible for Mick to spend his final days at home. Thanks to all who organised, participated and donated.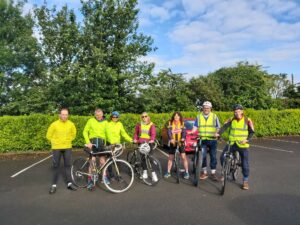 New School Update
This week marked an exciting one in both the history and future of our school as the members of the design team tasked with designing our new school met on site for the 'kick-off meeting' for the project. The design team, comprising of representatives from MCOH Architects, KSN Project Management, Nolan Construction Consultants, Downes Associates, Semple and McKillop, Reddy Architecture and Urbanisation and KSN Project Management met with school management team Jack Flynn and Ciara Ormond as well as Breda Cunneen, Head of Capital Buildings, Tipperary Education and Training Board.
When built the new school will be able to accommodate 800 students and will include four special classes, ensuring that the provision of second level education in Roscrea is future proofed for generations to come.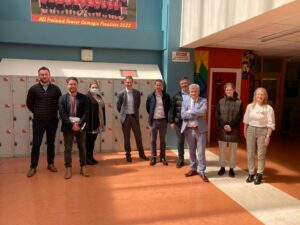 Special Class Provision
In fantastic news this week the Department of Education have sanctioned the opening of two special classes on our campus here in Coláiste Phobal. They will be available for pupils in our community to enroll in from September 2023. The sanctioned classes are intended to meet the needs of students with complex educational needs arising from their diagnosis of ASD.
This is a much needed addition to us here as there are 9 special classes already in our surrounding primary schools. We are delighted to soon be in a  position to provide post-primary special class places and look forward to a new chapter in the history of our school.
School FunDay
This week saw the return of  our annual school Funday. The whole school was invited to participate in a wide variety of activities ranging from traditional sports day events such as races and tug of war, to hurling and soccer skills competitions, obstacle courses and of course, inflatable attractions.  The day cumulated in our traditional Staff vs Students soccer game which resulted in a 1-0 victory for the Student team. A fantastic day was had by all and we would like to thank the staff members involved in organising such a successful day as well as Megabounce who provided our inflatables on the day.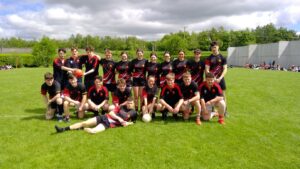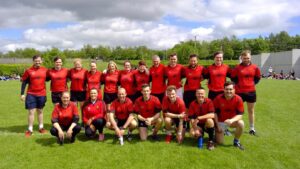 6th Year Soccer Team                                                        Staff Soccer Team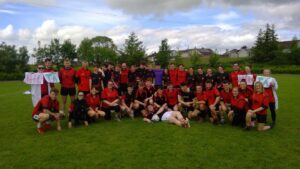 Smiles All Round: Staff and Student Soccer Teams and Match Officials after the match
School Golf
The final school golf outing of the year took place on Thursday 26th May. Again, I would like to thank Roscrea Golf Club for welcoming and allowing the students of Coláiste Phobal to use their wonderful facility. Everybody was a winner on the day, all boys walked away with prizes.
Senior Section
1st Lee Doran
2nd Diarmuid McLoughlin
Junior Section
1st Jayden Loughnane
2nd Sam Dooley
Ms Egan would like to wish all the lads the best of luck in their upcoming exams.
Juvenile membership of Roscrea Golf Club is open to any boy or girl wishing to join for a small annual fee of €80. We have many lessons and competitions over the course of the summer for both the boys and the girls. Membership forms can be picked up in the clubhouse.
Historical Tour of Roscrea
Miss Hassett and Miss O'Meara took their 1st year groups (Lough Allen and Lough Conn) on a historical tour of Roscrea. We visited The Round Tour, Saint Cronan's Monastery, Roscrea Castle, Damer House and the Franciscan Friary. We enjoyed a wonderfully, informative talk from Sandra of the OPW at Roscrea Castle. A lovely afternoon thoroughly enjoyed by all.